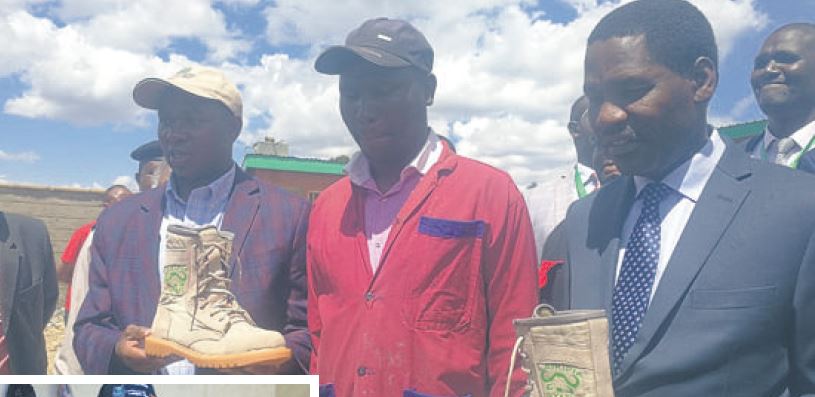 Peter Mwangi, 45, completed his primary school education in 1990 but did not proceed to secondary school. But failure to proceed with formal education beyond standard eight did not dim his hopes for a bright future. The father of two joined a local shoe maker at Nyahururu town in 1991, where he learned the art of shoe making. Today he a respected shoe manufacturer with a reasonable reward for his sweat.
SEE ALSO: Sugar manufacturers want ban on cane import lifted
Mwangi runs a shop in the Nyahururu CBD and has a workshop located at the Nyayo Jua Kali shades, which also serves as his office. He is curving his niche as a trainer, employer and innovator in the shoe making industry. Five years ago, he decided to experiment and venture into a field ignored by many. He started making police and security boots, with his target clients being police officers, bodaboda operators, security guards and ordinary citizens. "Many people believes such items can only been made and procured from outside the country, but with the government showing interests in supporting local industry, and innovation, I wants to embrace the idea and take advantage of the favorable environment," he says. Prior to venturing into boot making Mwangi concentrated on School shoes, which he says are seasonal.
SEE ALSO: Meru Coffee Union starts own mill after split with New KPCU
But the boots which are made on order improved his earnings. One pair of boots goes for Sh2, 500 and he can get as many as ten orders in a hood month. In a low season, he earns a monthly profit of about Sh15, 000, but is able to double during the high seasons. His wife, Irene Mwangi, who has also learned shoe making, helps him to run the business. He also has one employee, and two casuals, who are students from Nyahururu Polytechnic who have interned in his industry. Mwangi's boots are named after his Trade name, Laikipia Nyati. He says the ever-increasing Securicor firms and county enforcement officers is a market that cannot be ignored. Such groups of people, he believed will buy from him due to good pricing and quality. He says he first made his own pair of boots and from the results, he decided to improve the design. He gets his raw material, which include pure leather, canvas and sponge, among others from Nairobi, and works on them in his workshop to produce high quality boots, which are comfortable to wear. In a day, he can make as many as six pairs of boots. Mwangi says lack of enough capital and market are the main challenge he faces. Lack of modern machines to cut and shape leather and other materials to make the shoes make their work difficult as they use hands.
SEE ALSO: Government to begin implementation of new tea regulations by end of August
"If supported with capital and other requirements, I can manufacture in large quantities for the wholesale market," he says. His wife who is his principal assistant has to balance between her daily chore of taking care of her family and participating in running their enterprise. Laikipia Government Ndiritu Muriithi has recognized Mwangi's efforts and Trade and Industry Cabinet Secretary Peter Munya, who during a recent Innovation Fair held in Nyahururu Town visited his stall. Munya said Laikipia would be a model Centre and innovators as Mwangi will be assisted to realize their dreams before the same is replicated in other counties. "We shall ensure every machine and equipment needed is availed then we replicate in the 47 counties and then the constituencies," Munya said. Muriithi said the Laikipia government has identified such innovators and they will get financial assistance and training. "Our intent is to support these innovators of Laikipia to do great things. We have a lot of confidence in them," he said.