Kenya gifts South Sudan with land for dry port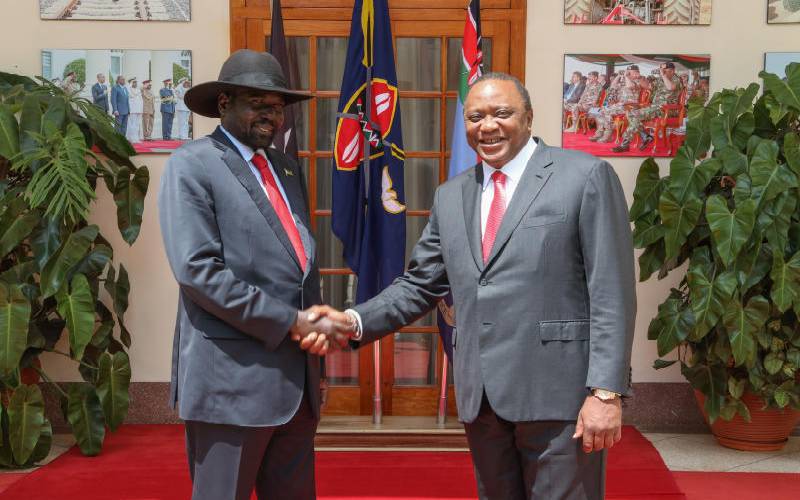 Kenya has granted South Sudan a 10-acre piece of land in Naivasha to build a dry port that is meant to ease the movement of goods and boost trade between the two countries.
The dry port will be built at the Inland Container Depot (ICD) at the Naivasha Special Economic Zones and will serve as a logistics hub for the Sh2.5 trillion Lamu Port South-Sudan Ethiopia Transport (Lapsset) Corridor Project.
"To ease the movement of goods destined to South Sudan, Kenya government has responded to the request of South Sudan to set aside ten acres of land at the ICD Naivasha Industrial Park for use as a dry port by South Sudan," said President Uhuru Kenyatta yesterday.
He was speaking at State House Nairobi yesterday when he received his South Sudan counterpart Salva Kiir who is in the country for a two-day State visit.
Revealing a set of agreements seeking to strengthen relations between the two countries, President Kenyatta said Kenya would also train senior South Sudanese government officials in the public service. The talks between the two nations also focused on the promotion and protection of investment, double taxation, and capacity building.
President Kenyatta reaffirmed Kenya's commitment to the implementation of Lapsset projects including a transnational highway, oil pipeline, and the Lamu Port.
"The first berth (Lamu Port) will be ready in August while berth two and three are expected to be completed within the year 2020," he said.
The two countries also agreed to set up a joint border commission for the management of their common border.
President Kenyatta said Kenya and South Sudan will put more efforts into completing trans-national highways including Eldoret-Lokichoggio-Nadapal-Kapoeta-Torit-Juba Road. Mr Kenyatta also announced that Kenya will hold a trade expo in Juba this year tas a show of confidence in the South Sudan economy.
"The Expo will not only showcase Kenyan products but also reciprocate by exposing South Sudan's products to Kenyan business people," said the President. The two leaders noted that they have initiated efforts that will guide amicable resolution disputes that may arise over the shared border.
President Kiir said Kenya was strategic in boosting South Sudan's economy.