Financial Standard
We should not go back to the pre-independence era where sugar was controlled by one family because such arrangement undermines democracy.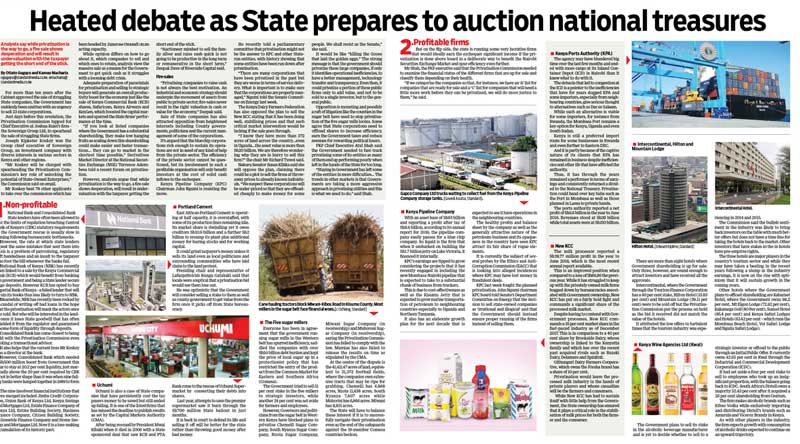 It is the capitalist belief that a private company is interested in making a profit by cutting costs to be efficient. Privatisation of State-owned firms occurs alongside policies that allow more organisations to enter the industry and increase the competitiveness of the market. This increase in competition can spur improvements and efficiency. Privatisation is the selling state-owned asset(s) to the private sector.
SEE ALSO: Social business model can save State firms
The Kenya National Chamber of Commerce and Industry (KNCCI) has asked the Government to speed up the privatisation of sugar factories to foster competitiveness. It appears the State has bought that idea. Consumers are also likely to benefit. The main argument for the privatisation of the sugar industry in Kenya is that private organisations have a profit incentive to cut costs and be more efficient. However, research shows that privatisation doesn't necessarily increase competition as it depends on the nature of the market. In any case, many organisations find it difficult to understand their costs. For example, how do you cost lack of motivation of the workers in a mismanaged sugar company? Private firms may ignore external costs, for example, pollution and external benefits, ignoring wider social costs.
Production costs
SEE ALSO: Corona: Equity, chamber strike Sh250b loans deal for SMEs
A State-owned firm can put social benefits above the profit motive, and it is lack of understanding of this trade-off in between private and State controlled firms that cloud the debate about privatisation. The KNCCI said the sugar industry was plagued by ageing equipment and high cost of production. Employees in these firms concur and it is difficult imagining how a serious investor would risk his capital in dead equipment. This is because land in many of these firms is a thorny issue. Thus, the argument for privatising is that firms have the incentive and capital to introduce new technology and increase labour productivity. This needs further interrogation. What sugar firms need are managers who can perform and deliver. This explains why those opposed to the privatisation of sugar factories argue that this concern can be addressed through sufficient regulation and managerial discipline. They add that privatisation will propel unemployment.
SEE ALSO: Traders sourcing goods from UAE to get interest free loans
Let us be aware that to evaluate the impact of privatisation on the economy is not as simple as adding one to one and getting two. Privatisation can involve the selling of shares but lack of exposure to market forces may not bring about the desired efficiency. Equally, efficiency gains may be achieved through other changes such as management reforms, without any changes in ownership. An authority argued that even improvements in capital resource allocation "may be achieved by getting rid of soft budget constraints, typically identified with, but not a necessary characteristic of, public sectors and strengthening management accountability, i.e. through greater organisational transparency."
Mahathir Mohammad
Taking the case study of Malaysia, it's Prime Minister Mahathir Mohammad's in 1983 announced of his government's intention to embark on a privatisation policy which he later on denationalised. During the time, a New Economic Policy (NEP) preceded their privatisation agenda. "The NEP, first announced in 1970, sought to create the conditions for 'national unity' by reducing poverty and inter-ethnic disparities, especially between the indigenous, mainly ethnic Malay Bumiputras and the ethnic Chinese non-Bumiputras, usually referred to in Malaysian discourse as 'restructuring society'. They never privatised in a vacuum. Kenya Airways despite being substantially privatised appears to be financially troubled. The experience in Malaysia suggests that desired improvements in efficiency and distribution may not be achieved through privatisation, more so if the sale fails to nurture competition. The danger with privatisation is that it creates a monopoly. We should not go back to the pre-independence era where sugar was controlled by one family because such arrangement undermines democracy. A powerful economic block, could through its enormous resource's compromise democracy by corrupting leaders. Sometimes, efficiency and service quality have been accompanied by higher user costs - diminishing consumer welfare.' -
The writer teaches at the University of Nairobi