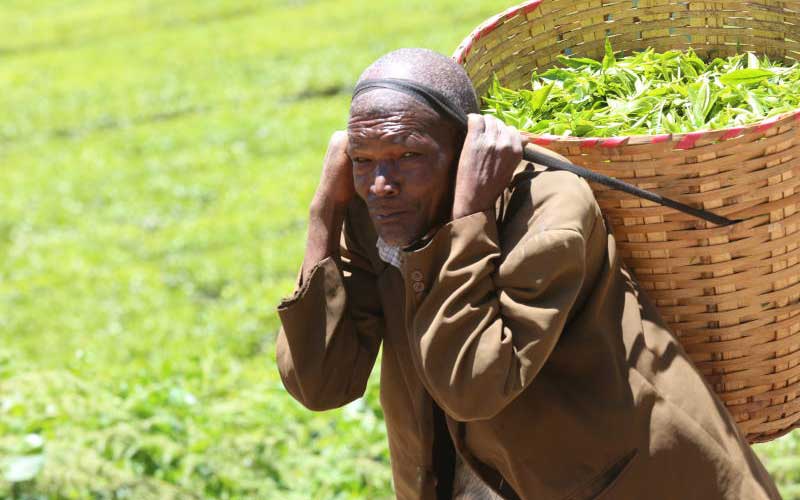 A fall in demand for tea at the Mombasa auction due to low prices has left traders holding large stocks in a major blow to farmers.
According to a recent Kenya Tea Development Agency (KTDA) report, the average price of its teas in the first half of the year sharply dropped to Sh271 per kilo from Sh327 realised in the corresponding first half of the 2017/18 financial year.
This was occasioned by high volumes following increased output from farmers.
According to the report, green leaf production at KTDA-managed factories rose 4.4 per cent to 611 million kilos between July and December last year on account of good weather.
At sale six of this year, about 24 per cent of the total tea that had been offered at the auction was not bought and had to remain in warehouses.
Read More
One firm that has suffered the negative impact of the supply glut is Chai Trading, a subsidiary of KTDA.
The firm said its warehouses in Mombasa have been overwhelmed by high tea volumes occasioned by high output from farmers.
Poor earnings
Head of Operations Muema Muindu said the warehouses, with a capacity of about 54 million kilos, are now holding over 65 million kilos.
As a result, he said, the company has had to store some of the tea along the corridors to ensure that all deliveries fit in its six warehouses.
"The congestion at the warehouse is resulting from decreased demand of the tea at the auction as a result of low prices at the weekly trading," said Mr Muindi in a recent interview.
KTDA has asked farmers to brace for poor earnings this year due to a decline of 17 per cent in the price of the commodity in the first half of this financial year.
However, according to another report by Combrok Ltd, during sale eight at the Mombasa auction, there was "good" general demand mainly at higher rates due to the quality of the 192,678 packages on offer, with only 11 per cent remaining unsold.
At the same time, the firm said in its weather report for the week ending February 17, both east and west of Rift tea growing areas still experienced hot and dry weather and sometimes wind, with some selected catchments experiencing frostbites.