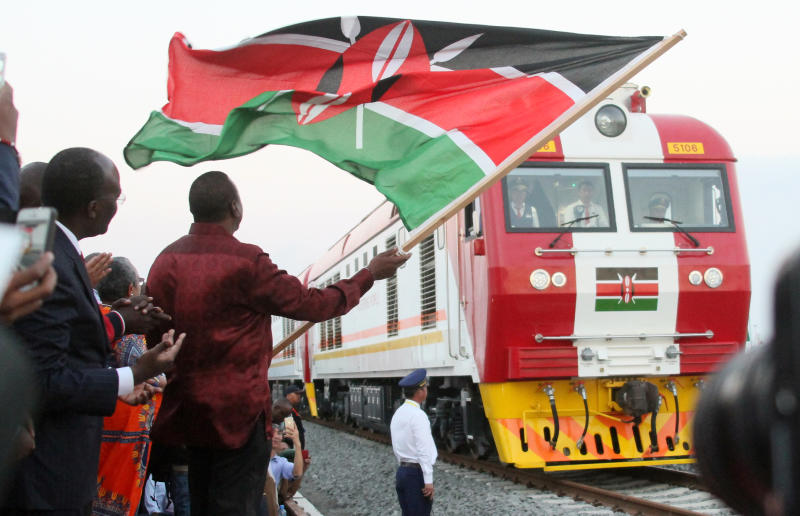 As passenger number 1,338,001 boarded the Madaraka Express on Thursday last week to mark one year since it began operations, questions still linger about the economic viability of Kenya's most ambitious piece of infrastructure.
Despite raking in an impressive Sh1 billion in the first year, which translates to Sh2.7 million daily, the SGR cannot meet operational costs. This is the paradox policy makers and President Uhuru Kenyatta are uncomfortable talking about as they insist on how successful the passenger service has been.
"Once it took Africans 12 hours on a third class carriage to get to Mombasa from Nairobi; now we can do it in four hours," said the President in his Madaraka Day speech.
"Once the Standard Gauge Railway reaches Kisumu we will travel across Kenya in one day. We owe all to the hard work of Kenyans; work which shows in the simple fact that our income per capita is 13 times what it was at independence," he said.
This hard work by Kenyans that the President was talking about may come in handy in paying off the Sh327 billion the state borrowed to construct the first phase of the railway which is yet to break even.
Read More
Constructed at a cost of Sh560 million per kilometre for the track alone, a price critics say is highly inflated, the Madaraka Express had by the turn of its first birthday made 1,142 trips each carrying an average 1,200 passengers.
"At its worst we are doing 90 per cent seat occupancy but on average we do 96 per cent per trip," Kenya Railways Managing Director Atanas Maina told the Sunday Standard.
"On the day we started, the trains were full and we thought the numbers will die in the course of time because you know whenever there is a new service everyone wants to try it due to excitement. This excitement has not only refused to die down but the SGR has proven a necessary service that was missing," he said.
This excitement was evident on Thursday as enthusiastic travelers took selfies before boarding the 2pm train to Mombasa that marked the start of the second year of operations. For a state run service that has been in operation for a whole year, facilities at the SGR station in Mlolongo are still as crisp as they were a year ago. By comparison Thika road which is also a mega project fell apart within its first year forcing the government to issue a Sh1 billion a year maintenance contract.
Passengers who book online or using their phones still get their receipts from a vending machine and the five security checks at the station are only rivalled by the Jomo Kenyatta International Airport in Nairobi. Ticket verification before boarding is still electronic and an army of Chinese and Kenyan employees make rounds every few minutes to check if everything is comfortable.
Entrepreneurial Kenyans have also taken advantage of the arrival and departure times of the trains to start small businesses that roar to life every time a train arrives or one is about to leave. Matatus plying on Mombasa Road also come to pick passengers who have arrived from the Coast.
But despite all these positives, the Madaraka Express still remains a middle class mode of transport due to the prohibitive connection costs between Miritini station to Mombasa and Nairobi CBD to the Mlolongo Station.
It costs about Sh1,000 to hire a taxi from Nairobi to Mlolongo and an almost similar amount to connect between Miritini and Mombasa. When you add this to the ticket price which is currently Sh1,000, it comes to Sh3,000. This is the average cost of flying on a low cost carrier if you book early enough.
Still this is not the greatest challenge facing the SGR. The cargo service which is supposed to bring in the dollars the SGR badly needs is taking too long to pick. This is despite a decree by government that all undeclared cargo will be cleared at the Inland Container terminal in Nairobi.
The expectation was to shift over 40 per cent of road cargo traffic to rail since one freight train can haul up to 4,000 tonnes per trip or an equivalent 216 trucks. Kenya Railways even went further by reducing charges for transporting cargo to Sh30,000 for a 40-foot container and Sh25,000 for a 20-foot container hoping this would enable them increase the number of trains to eight.
However, the SGR currently runs four trains per day from Mombasa each carrying 100 twenty-foot equivalent units (TEUs) per trip. This is still too low if you consider the fact that the SGR had initially planned to run four freight trains per day, each with 54 double-stack flat wagons, carrying 216 twenty-foot equivalent units (TEUs) per trip.
And when you consider the fact that 30.3 million tonnes of cargo arrived at the port of Mombasa last year, then the intensity of the headache facing policy makers on how to make money out of the SGR goes higher. The SGR was designed to transport 22 million tonnes of cargo annually, an equivalent of 40 per cent of Mombasa Port's throughout
"The total number of vessels that docked at the Port increased by 10.0 per cent from 1,607 in 2016 to 1,767 in 2017. At the same time, total import traffic handled grew by 10.8 per cent to 25.6 million tonnes, while export traffic handled expanded by 2.7 per cent to 3.8 million tonnes in 2017," said the recently released economic survey.
Kenya Railways has maintained a brave face. "We wanted to test the market first before making projections and decisions on pricing and demand," said Atanas Maina, the Kenya Railways Managing Director.
"We haven't met our operational costs yet but we are sure we will soon be able to do so. The promotional tariffs are going up to December then we will figure out whether to increase the costs or add additional trains," he said.
Like all railway systems in the world, the SGR requires its cargo service to be successful to make economic sense. Freighters say reducing the price of transporting cargo alone on the SGR is not enough.
"Even if they decide to offer free transport, they will not get cargo because for you to place your goods on top of a wagon it must make business sense," says William Ojonyo, the chairman of the Kenya International Freight and Warehousing Association (KIFWA).
"It is more about efficiency and the Kenya Ports Authority is still very slow. Remember when cargo stays for more than four days, it goes to storage which has to be paid for," he says.
The headache for the government is how to pay for the big railway project without falling for the temptation to continue the borrowing spree. Kenya Railways contracted China Roads and Bridges Corporation (CRBC) to run the service for 10 years.
None of the government officials want to say how much CRBC is paid for running the train but the five year grace period for the repayment of Sh327 billion borrowed from the China Exim Bank in 2014 comes to an end next year. The money comprised of a $1.633 billion commercial loan and $1.6 billion concessional loan.
Repayments for the loan, whose interest is 3.6 percentage points above the six months average of London Inter Bank Offered Rate (Libor) will shoot to nearly Sh34.8 billion in the financial year 2019/20 from Sh6.07 billion this fiscal year, and Sh8.39 billion in 2018-19.