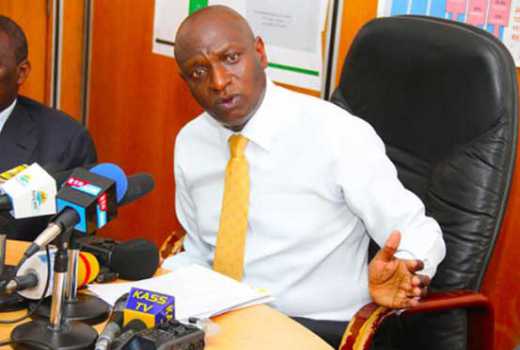 NAIROBI, Monday Dec, 8:
The government has refuted claims that Kenya Power backdated bills to recover more than Sh10 billion deferred in fuel costs last year. Energy Cabinet Secretary
Charles Keter
on Monday blamed the high tarrifs on a billing fluctuation following an upgrade in the billing mechanism by the power utility. According to media reports, Kenya Power said it under-charged consumers last year by not passing on the full costs it incurred on fuel. A lawyer claims that was done for political exigency 2017 being an election year. The costs followed the power firm's decision to switch on expensive diesel generators to bridge deficits occasioned by a prolonged drought.
SEE ALSO: Thermal power producers on deathbed
Kenya Power delayed the passing on of costs to consumers in line with a silent Government policy implemented last year on many basic commodities during the electioneering period. The power distributor disclosed the impact of the drought in cost of power in its annual report shows Sh10.1 billion as recoverable fuel costs. The allegations of inflated bills triggered reactions from consumers who demanded a relief from the new power charges. On January 5, Lawyer Apolo Mboya acting on behalf of consumers wrote to the Competition Authority of Kenya complaining protesting abuse of market dominance by Kenya Power to 'overcharge'. "In the month of November/December 2017, several consumers started receiving inflated power bills from Kenya Power and Lighting. It later emerged that KPLC was indeed recovering Sh8.1b backdated bills from electricity consumers allegedly incurred on diesel geration in the year 2017 but were not factored in the monthly charges while the government sought to keep a lid on utilities in an election year," says Apollo in a letter to Competition Authority of Kenya.
SEE ALSO: Firms counter State's plan to cut off lucrative power deals
"The actions of KPLC contravened the provisions of competition act by misleading consumers by making false or misleading representation with respect to the price of goods or services contrary to the law," he said. Apollo further writes that through the alleged adjustments, KPLC "engaged in conduct that is, in all circumstances, unconscionable contrary to section 56 and 57 of the Competition Act No 12 of 2010." "Due to the urgency justified by the fact that serious irreparable damage may be caused to the public interest, the Competition Authority, be pleased to order an immediate interim relief from payment of the said inflated electricity bill," he tells the authority. The lawyer warns that non-reversal of the inflated bills will result in court action. During a press briefing on Monday, Energy CS Charles Keter disclosed that Kenya Power had asked customers who had complaints to visit Kenya Power offices for assessment and review.
SEE ALSO: Kenya Power teams up with community to weed out illegal connections