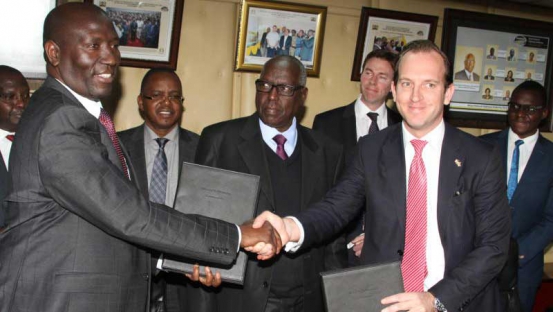 Kenya's Sh300 billion 'thank you gift' road project handed to an American firm on a silver platter has sparked a fresh tender war among implementing agencies. As attention of country was focused on the August 8, General Election, a small team of government officials were holed in meetings to dot the i's and cross the t's on what is set to be the single largest road project in Kenya. The team, largely drawn from the Kenya National Highways Authority (KeNHA) and the Ministry of Transport, had already sent the project draft to the Attorney General's office for comments and clearance. Three days before Kenyans lined up to vote, the final signature was put on paper, handing over the lucrative contract to build the 473-kilometer high-speed expressway between Nairobi and Mombasa to a US firm, Bechtel International Inc.
Chinese company
The press release sent to media houses at 1.30pm did not have the most important details of the project; the cost.
Infrastructure projects
Unit rates
Bechtel contract is based on Unit Rates for elements of work based on historical cost and production data. This exposes the taxpayer to contingent liabilities because unit rates become firm when the design is completed. Though no one is willing to share the estimated costs of the project, the State Department of Infrastructure brief suggests that the contract price will be at least $2.5 billion (over Sh250 billion). The brief says 80 per cent of the contract costs – quantities and prices - are not fixed and this may see the additional costs spill over to the taxpayer Given the other costs associated to the project like getting land, the price of the project could further go up after the design is completed. A source at Treasury says the project will cost just as much as the SGR, whose contract price was Sh327 billion but other costs such as land compensation and finance costs have pushed it up to near Sh500 billion. "If indeed, Bechtel is cheaper, then they can still tender under the proposed PPP project model and seek for financing themselves from OPIC or Exim Bank at their preferred cheaper rates," the brief reads. The brief had advised that the proposed method of developing the road under the Bechtel Proposal is not the best to the government, and asked KeNHA not to proceed, instead use the procurement process under the PPP arrangement, where Bechtel would be advised to participate alongside others. This advice was howver overruled.