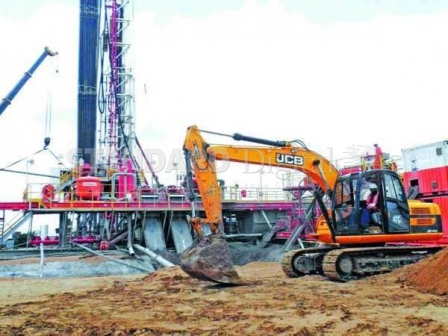 Africa Oil has increased spending in the Turkana oil exploration project despite an earlier warning that it might not have adequate resources to support activities.
The firm Friday said it had spent Sh1.45 billion during the three months to March, compared to Sh1.19 billion over a similar period last year.
The 21 per cent increase came despite the firm reporting a net loss of Sh164 million during the quarter, albeit a relatively better position compared to the Sh336 million loss reported in 2016.
Expenditure went into activities such as drilling and studies expected to inform commercial development of the Turkana oil fields.
Start production
Read More
The investments also included preparing for the Early Oil Pilot Scheme (EOPS) where Africa Oil and its joint venture partners in Turkana - Tullow Oil and Maersk Oil – are preparing to start production and export on a pilot basis.
"The company incurred $14.5 million of intangible exploration expenditures in Kenya for three months ended March 31, 2017," said Africa Oil when it published the first-quarter results.
"Development study expenditures are associated with studies aimed at progressing towards project sanction for the South Lokichar Basin. Exploration studies costs continue to be incurred in Kenya in conjunction with exploration and appraisal drilling campaign which recommenced in the fourth quarter of 2016," added the firm.
The three partners expect to start moving crude from Turkana to Mombasa by road and have recently awarded contracts for provision of tanktainers and trucks for the job.
"The first stage of the EOPS will be the evacuation of the stored crude oil, which was produced during extended well-testing in 2015, to Mombasa by road. This will be followed by EOPS production of 2,000 barrels of oil per day in the fourth quarter of 2017," said Africa Oil.
The Canadian firm recently cautioned its investors that it might not be able to internally raise finances required to support activities in Turkana. It is also reluctant to borrow, saying lenders might advance the money on unfriendly terms.