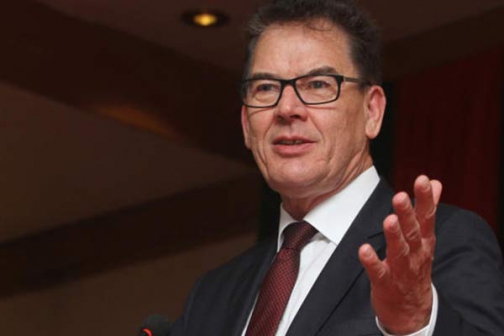 Hundreds of business and political personalities yesterday attended a German-African economic summit in Nairobi, where German Minister for Economic Cooperation and Development Gerd Mueller talked about his "Marshall Plan" for Africa.
The plan is "with Africa, not for Africa," Mueller (pictured) said, stressing that it would be based on cooperation between equals rather than the principles of traditional development aid.
The plan, which Mueller presented to the German parliament's development committee on Wednesday, is based on fair trade conditions, investment and increasing aid for educational projects.
One of the goals of the plan, which the German opposition received with scepticism, is to curb migratory flows from Africa to Europe.
Mueller called on German companies to focus on Africa, which he described as a "continent of opportunities" and "tomorrow's growth continent." He also urged African countries to create conditions favourable to increasing cooperation.
German Economy Minister Brigitte Zypries said Germany's bilateral trade with sub-Saharan Africa only amounted to 26 billion euros (29 billion dollars) in 2015, about the same as Germany's trade with Slovakia. Zypries stressed the economic potential of Africa, which is expected to have more than 2 billion residents by 2050. —Agencies