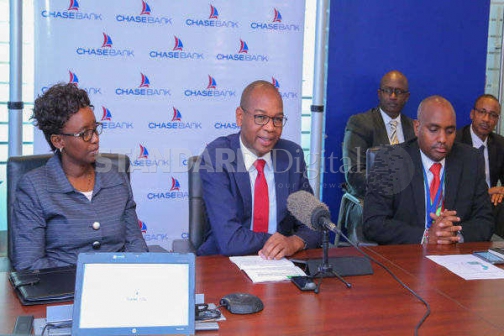 Chase Bank receiver managers, Kenya Commercial Bank (KCB), have confirmed that the operational structures of the bank have finally been put in place.
In a media briefing at the Chase Bank headquarters yesterday, KCB Chief Executive Officer Joshua Oigara said the bank that almost went under is now sound and ready for the next phase of loaning and deposit taking.
He said currently, the lender can carry out transactions, and its human resource base is strong and complete.
"What remains now is ensuring that Chase Bank can take deposits and carry out lending to its customers," explained Oigara, adding: "Putting up the basic operational structures for the bank formed 95 per cent of our mandate as receiver managers.
What remains now is the five per cent bit that involves ensuring the bank can comfortably take deposits and lend to customers. This remaining bit will be finalised in the next three weeks," Oigara said.
Read More
Oigara also moved to allay fears that have been expressed by some Chase Bank international investors, who have complained to the Central Bank of Kenya (CBK) that they are being kept in the dark on activities surrounding Chase Bank's revival.
These international investors are DEG, a German investment firm, French firm Amethis Finance and Swiss venture equity firm responsAbility. They cumulatively own 20 per cent of Chase Bank.
Complaint
"It is not true that we are ignoring shareholders on the day-to-day running of Chase Bank either local or international. But I will be meeting in the next two weeks international investors who have expressed concerns and we can talk to them about the road to recovery for Chase Bank," the KCB chief said. Oigara also downplayed the notion that KCB will automatically purchase Chase Bank after the mid-tier lender comes out of receivership. He was quick to point out that the decision was for CBK to make.
CBK has appointed an international consulting firm that will carry out an Independent Business Review (IBR) whose final recommendation will set the tone for the regulator to make the right decision with regard to Chase Bank's future.
"Unlike public opinion out there, KCB's role was to stabilize the bank and not to purchase it. The international firm whose identity I cannot reveal now, will carry out due diligence and its report will be presented to CBK in a month's time," Oigara said.
The KCB chief also said other investors who are interested in Chase Bank have also become jittery over KCB's role. Such a purchase, he said, must be approved by KCB shareholders who are yet to be consulted