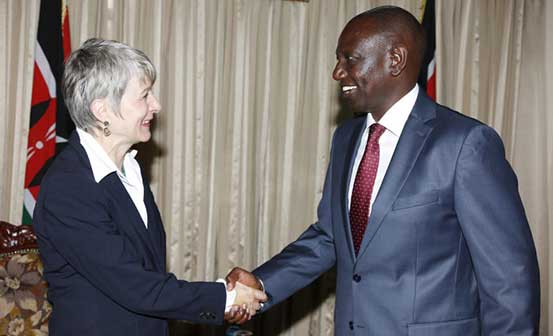 Kenya will shelve the 'toxic' clauses in the Companies Act that demand citizens own a 30 per cent of all foreign companies as a pre-condition to be allowed to operate locally, Deputy President William Ruto has said.
Giant companies like Google and General Electric are required to have Kenyan shareholders under the new law, a condition that is impractical. "We will look for a way of correcting the situation so as to create a favourable climate for investments," Mr Ruto said yesterday while hosting German Ambassador to Kenya Jutta Frasch.
The new legislation which has now been met with resistance from the private sector was signed into law in September by President Uhuru Kenyatta. "We will ask the Legislature to make some insertions on the regulations so as to create balance between price, quality and value." In reaction to an exclusive report we carried in Business Beat, a publication of The Standard.
The law requires foreign investors to partner with locals in joint ventures while setting up business in the country, but that clause is now being viewed to be an impediment to investments and capital inflows.
Ruto was responding to concerns raised by Ms Frasch who paid him a courtesy call at his Karen office on Wednesday. The Standard had raised the same issues in the Business Beat on Tuesday. Ruto's assurances came only a day after Industrialisation Cabinet Secretary Adan Mohamed expressed similar reservations about the toxic clause, which he termed as impractical.
Read More
"It is one clause that may have been overlooked during the legislation process but is obviously unrealistic whichever way you look at it," Mohamed told The Standard on Tuesday.
"It will be removed." While such a law was in force in other countries like South Africa and Zimbabwe, it was likely to hurt Kenya's standing as an investment destination. It would also hurt Kenya's ranking in the Ease of Doing Business survey compiled by the World Bank, Mohamed said.
Ms Frasch told Ruto that German business people had raised concerns that the law was making it difficult for them to invest in the country.
"Germany investors have a lot of interest to invest in this country but the regulations that they should enter a mandatory joint ventures, up to 30 per cent shares with the locals is making it less favourable for them," said Ms Frasch.
Ruto told her that Kenya was open to investments and that it was doing its best to ease the cost of doing business in the country. "We are solving the impediments to make Kenya the best place to do business," Ruto said, disclosing the country's ambition of jumping 20 places next year in the World Bank's Doing Business Report.
Kenya rose 28 places in the World Bank rakings in the report released last week.
Ms Frasch said Germany was ready to partner with Kenya in the development of technical education.
"I want to assure you that Germany has a lot to offer to the people of Kenya on vocational training," said the German ambassador.
Germany has established 60 technical institutes in the last year and an additional Sh 3.5billion has been set aside to initiate another 70 similar institutions.
Frasch said her country, which is hosting thousands of refugees fleeing the Middle East crisis, was keen to learn from Kenya's experience. Kenya is home to more than 1 million refugees in various camps, including the World's largest in Dadaab.