Sugar firms owe KRA Sh21 billion unpaid tax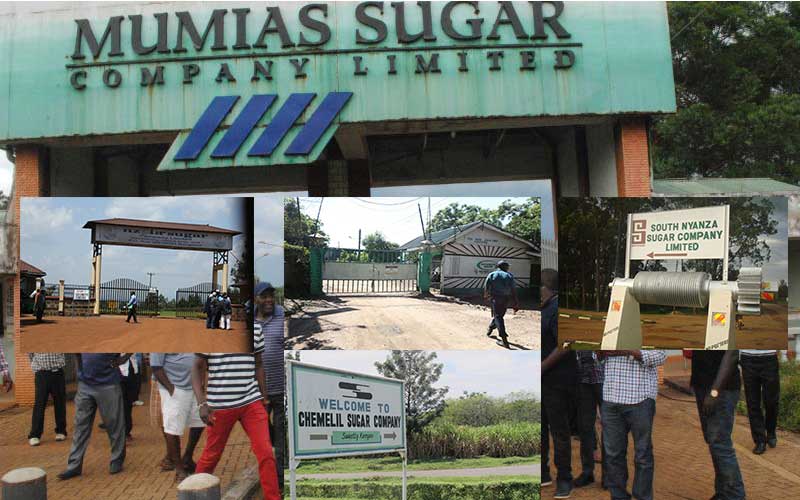 Five sugar firms in Western and Nyanza regions owe the Kenya Revenue Authority (KRA) Sh20.8 billion in tax arrears.
KRA says the amount includes Value Added Tax (VAT), Pay As You Earn (PAYE), excise duty and others that have been accumulated over several years by the struggling millers.
Leading the pack is Mumias Sugar Company that is yet to pay Sh10,734,865,692, followed by Nzoia Sugar at Sh3,770,106,880 while Chemilil owes the taxman Sh2,863,160,796.
Migori-based South Nyanza Sugar Company (Sony) is yet to pay Sh1,824,448,147, while Kisumu's Muhoroni Sugar Company is yet to meet its obligations amounting to Sh1,578,827,752, making the total owed by the five milliners at Sh20,771,409,267.
The taxman says Mumias paid its last installment of Sh1.1 million in July and subsequently defaulted, prompting the issuance of the agency notice to freeze the miller's account.
The agency notice was issued on August 22 and 28, and Mumias managers met KRA officials to discuss the settlement. The firm promised to provide a favourable payment plan.
The move by KRA crippled the activities at the country's once most lucrative sugar miller, with management informing staff that their salaries would not be processed.
"As management was processing payment of salary advance to employees, the KRA issued an Agency Notice to all our bankers, restricting transactions until Sh10 billion in taxes outstanding since 2012 are settled in full," acting head of Human Resource John Shiundu said in a memo to staff dated August 30.
On the other hand, Nzoia told KRA it had paid some amount, which was not being reflected in its itax system. The case was consequently taken by KRA Finance department for reconciliation.
"We are waiting for KRA to respond. However, Nzoia is still remitting Sh1 million every month," a brief from the Times Towers indicates.
KRA says Chemelil Sugar's bank accounts were frozen last 21 January, after the firm failed to honour a payment plan it gave earlier.
The agency is awaiting a court verdict to determine how much it should recover from Chemelil's accounts held at KCB Bank.
On May 7, the KRA issued an agency notice that was later lifted on June 10, following discussions.
Sony had requested KRA for a three-month moratorium on tax arrears as it sought funds for annual plant maintenance. This is yet to happen, as the miler is awaiting a loan from the Migori County Government.
Muhoroni appears to be the only firm that has an undertaking that is working, as it pays Sh5 million monthly to offset its dues.
So far, Sh175 million has been paid, with KRA and Muhorni expected to hold another meeting in December to review the repayment plan.
This comes in the wake of intensified efforts to nab tax cheats by the Commissioner General James Mburu-led agency that has also targeted public universities.
Already, KRA has frozen the accounts of 11 public universities over Sh9.7 billion in tax arrears, a move that might cripple operations of the public learning institutions.
KRA further states it has embarked on an aggressive tax compliance strategy.