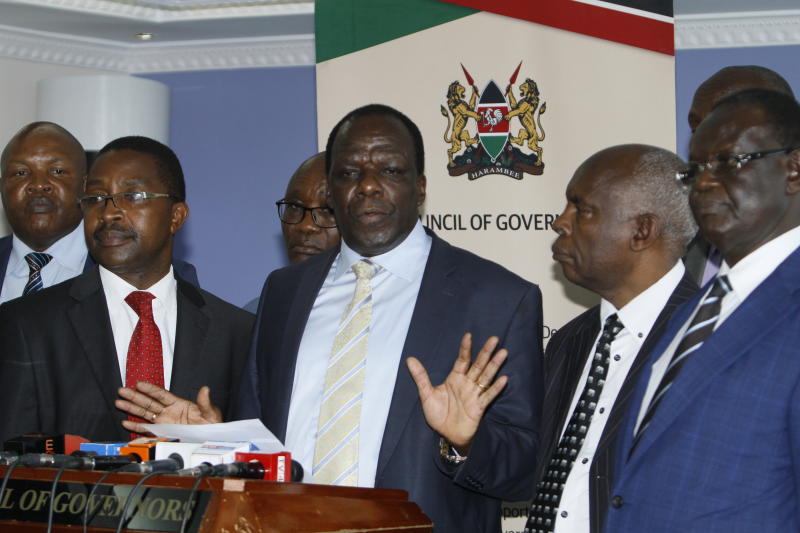 Governors have warned of a complete shutdown of county governments' operations in two weeks unless the row over county cash is resolved.
On Wednesday, mediation talks between representatives of the Senate and the National Assembly on the Division of Revenue Bill collapsed for the second time.
This deepened the crisis that has occasioned strikes in some counties by employees over delayed salaries.
No option
Yesterday, a crisis meeting by the Council of Governors (CoG) chaired by Kakamega Governor Wycliffe Oparanya said it will be difficult for counties to pay salaries at the end of this month.
Read More
Mr Oparanya said the revenue stalemate has pushed county governments to the limit.
"We hope that the government can resolve the matter fast to ease the suffering that is being experienced in the counties," he said.
"If this matter is not resolved, the county governments have no option but to shut down."
Mediation team
Counties are seeking an allocation of Sh335 billion for the 2019-20 financial year. The National Government has insisted that only Sh316 billion is available.
Oparanya said CoG has given the Senate and the National Assembly up to September 16 to address the revenue issue, failure to which devolution will crumble.
The Supreme Court has directed the Senate to appoint a mediation team that will meet with representatives from the National Assembly to find a solution to the Division of Revenue Bill 2019 by September 16.
Oparanya said the financial crunch has completely disrupted key operations in the counties.
"We are warning county workers to prepare for tough times ahead. If a solution to the revenue crisis is not reached, there will be no salaries."
Ongoing debate
On matters to do with the referendum, the CoG chairman said governors will carry out consultations with the Senate and county assemblies before reaching an agreement.
He noted that the council appreciated the ongoing debate on introducing reforms to the current Constitution, saying it is good for the unity of Kenyans.
"We are aware that devolution has faced a myriad of challenges," said Oparanya.
"To safeguard the spirit of devolution, the council intends to initiate its own process known as 'Ugatuzi Initiative' in consultations with other players in Government to see how the Constitution can be reformed."
He said CoG will give directions on the initiative next week.