The Jevanjee Gardens 'legislators '
By Alex Kiprotich
For many years, Jevanjee Gardens has been the place to be when one wants to relax and or listen to preachers as they compete to "save lost souls".
In recent times, a group of mostly young Kenyans have found the ground more than a place to while away time.
Here, Bunge la Mwanachi —mainly jobseekers — meet daily to discuss topical social and political issues.
A debate session at the Jevanjee Gardens
The Standard on Saturday found them debating the Revised Draft Constitution but the topic soon changed to US President Barack Obama's appointment of his predecessors, George Bush and Bill Clinton, to take charge of Haiti's humanitarian crisis following the January 12 earthquake.
"Do you know that Mehmet Ali Agca the man who tried to assassinate Pope John Paul II has been released?" asks a man with bushy beards.
"Agca confided in his lawyer that it was President George W Bush who sponsored him," he adds.
But this piece of information draws points of order as the "legislator" is rebuked for giving inaccurate information.
"Stop giving us false information. Bush was not US president then. Ronald Reagan had just begun to serve his first term," says Mr Wambugu Mwai, who was leading the debate on the draft constitution.
The man apologises and debate on the subject continues.
"Had Agca been imprisoned in Kenya, he would not have survived in jail for 29 years," another member observes.
The debaters, who can easily be mistaken for idlers, are resourceful and well-informed. They discuss current issues in the global scene, including the recent earthquake in Haiti and the historic Republicans takeover of the late Ted Kennedy's seat in Massachusetts.
"Many people think we are idle but they should come here and listen to our discussions," says Mwai.
Though most of the discussions involve young job-seeking men, their debates are enhanced by other people who participate during lunch breaks.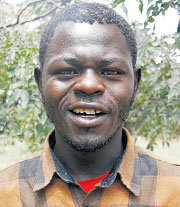 Jacob Odipo Photos: Martin Mukangu/Standard
"This is one place you will find the most informed people. I bet those who come here daily are more informed than those in offices," he says
He says besides being informative, the discussions are therapeutic.
"People with stress find the debates lively and forget their worries. You will see a man come here with something weighing him down but after engaging in heated discussions he brightens up," says Kihara, who has been visiting the park since 1997.
Mr Vincent Kidaha, who hails from Sabatia and formerly worked with World Vision Kenya, says there is something unique about the people visiting the garden.
Kidaha says it is at the garden that he learnt about the world's tallest building — Burj Khalifa in Dubai.
"Some of us would be ignorant about what goes on in the world were it not for these meetings," he says.
He says people in desperate situations go home encouraged.
Ms Mary Ouma, though not an active participant, says she enjoys the debates.
"I always wonder why these people are not employed. They are well-informed and I think we are locking the best brains out of employment," she says.
Mr Jacob Odipo says sessions provide a platform for Kenyans to resist oppression, fight for social justice and demand responsive and accountable leadership.
He says the debates are unpredictable and lively compared to those in Parliament.
"Here people debate issues that affect the common man with honesty, unlike our MPs who have vested interests," he says.