By CHRIS MUSUMBA
Kenyan female athletes are the team to beat at the Olympics Games and the World Athletics Championships.
And as time ticks away to the London Olympic Games in August, many hopes of our female athletes overhauling men in winning more medals might diminish if significant improvement in training is not done.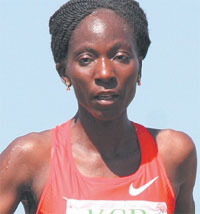 Catherine Ndereba
False starts and big flops have been the story so far in the women field. That explains why it took so long – ever since Kenya made her first show at the Olympics in the 1950's – for Pamela Jelimo to become the first woman to clinch gold for the country in Beijing in 2008 over the 800m distance, yet the country is endowed with plentiful talent in track and field.
But again the first step is always the most crucial.
Kenyan women athletes have not sat back and watched as the history is made in their favourite discipline. Who can fault the unselfish performance of Tegla Loroupe, Catherine Ndereba or minuscule Vivian Cheruiyot?
The two have not only made it on the bigger stage in athletics, but have also gone ahead and cemented their names in the country folklore by giving as much back to the society to help nurture and develop young talent.
Loroupe, a 1999 Seville, World championships bronze medallist over the 10,000m distance, has stood as a pillar of hope in a marginalized area of Pokot to champion for peace and girl child education through the Tegla Loroupe Foundation.
Search for peace
Loroupe at one time held the world records for 20, 25 and 30 kilometres and previously held the world marathon record. She is the three-time World Half-Marathon champion. She was the first African woman to win the New York City Marathon, which she has won twice. She has won marathons in London, Boston, Rotterdam, Hong Kong, Berlin and Rome.
Loroupe was named a United Nations Ambassador of Sport by Secretary General Kofi Annan, together with Roger Federer, tennis champion from Switzerland. She is also an International Sports Ambassador for the, the International Association of Athletics Federations (IAAF) and for UNICEF.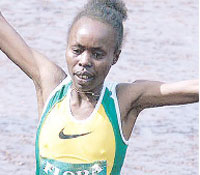 Tegla Loroupe
On her part, Ndereba's star cannot be dimmed. Still active today, Ndereba has been the complete marathon athlete that Kenya can boast of. Her performance has been rewarded with promotion at her work place, Kenya Prisons, where she serves as a Chief Officer I. She has won the Boston marathon four times, a feat no woman has ever attained. She also won the Chicago marathon in 2001 in a record time of 2:18:47.
In 2008, Ndereba was described by a Chicago Tribune as the greatest women's marathoner of all time in spite of missing out on the Olympic gold medal in Beijing. The Kenyan had no idea of having another athlete in front of her in Beijing as she approached the finish line. But Constantina Tomescu-Dita of Romania had stole the gold. But that still did not deny her the chance to be compared to England's Paula Radcliffe, the current world record holder.
Her two Olympic silver medals (Beijing and Athens), two world marathon titles and a second place, four Boston Marathon gongs and one world record has seen her rated as the second fastest woman ever in marathon history.
To show her appreciation, Ndereba has started the Nyeri half marathon, an annual race that attracts top athletes from worldwide. It has seen several stars sprout out of the highlands of Central Province and many aspire to be like her in sports.
But, Kenya is not about the aging athletes alone. Newly crowned Laureus World Sportswoman Vivian Cheruiyot is another gem in Kenya's acclaimed athletics conveyor belt.
Cheruiyot, the world 10,000 and 5,000m champion has scaled heights many men and women have only succeeded in dreaming about them. "This award has inspired me. I had no idea that I was going to win it. After failing to get something in Monaco (IAAF Awards), I knew it was hard. Moreover, there were great people there who are top in their respective disciplines. But I am inspired with this gesture," she said when she was pronounced winner together with Tennis World number one Novak Djokovic of Serbia.
But after a failed attempt to win an Olympic medal in Beijing in the 5,000m race, Cheruiyot is keen to get the gem in her impressive collection. Her effort has since been given a shot in the arm by Laureus World Sports Academy, which voted her the best female athlete in 2011.
"It felt great to sit next to Manchester United manager Alex Ferguson. I asked him about his team and he wanted to know how I run so well.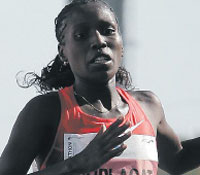 Florence Kiplagat
"Arsene Wenger said I was too tiny to beat anyone. But I like Arsenal and Chelsea and it was bad there was nobody from Chelsea in the gallery. But the biggest moment was for me to be honoured the same medal with tennis star Novak Djokovic. It makes me feel that I am also the best in my discipline and now the challenge will be to maintain the same in 2012," said Cheruiyot.
There are other numerous women who have made a mark on their lives through athletics. Florence Kiplagat broke Kenya's jinx in Amman, Jordan when she won the 8km senior women race in 2009.
The last time Kenya had won that medal was in 1994 through Helen Chepng'eno. Kiplagat studied at the Sirgoech Secondary School in Iten and she hoped to get a scholarship in the United States. Well she failed the TOEFEL test and missed the scholarship, but had a successful start to her running career. Today she is the Berlin marathon champion in a seventh fastest time of 2:19.44 while Mary Keitany 2:19.19 is the London marathon champion. Both are in the provisional Kenya team for the Olympics.
However, the epitome of charity by a Kenyan woman is based in Iten, where Lornah Kiplagat has set up a state-of-the-art training camp. Kiplagat is a former World Half marathon champion.
A great scholar once said, "Success doesn't come to you? You go to it." Well this is what some of the world's best athletes are doing by flocking Iten in their quest to prevail at the London Olympics in August. They all reside at Lornah's camp. Of course it is a far cry from the high-tech gymnasiums, technology savvy and rich neighbourhood they are accustomed to back in their homes in Europe or America.
Positioned on the cliff of the famous Rift Valley, at about 2,400 metres (7,870 feet) above sea level, this remote village draws top athletes including world and Olympic champions for high altitude performance training.
Kiplagat, who has since changed her nationality from Kenya to Dutch, started a High Altitude Training Camp at the entrance of Iten town in 2003 and was meant for female local runners. It has since evolved to become one-stop destination for sportsmen from Europe.