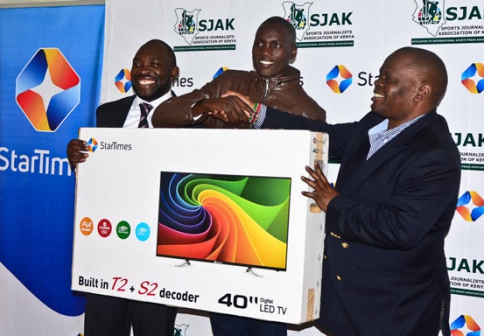 Deaflympian 10,000m record holder Simon Cherono Kibai is the winner of the inaugural StarTimes Sports Personality of the Month Award.
Cherono was declared the winner of the monthly award organised by the Sports Journalists Association of Kenya (SJAK) and StarTimes for the month of July following his stints at the 2017 Deaflympics Games in Samsun, Turkey.
Kibai successfully defended his men's 5000m and 10,000m titles and added a bronze in the men's 1500m contest in the Turkey contest.
Kibai trounced four other finalists - his deaflympian compatriot Daniel Kiptum, Kenya Simbas skipper Darwin Mukidza, high and triple jump teenager Gloria Mulei, and walking race maestro Dominic Samson Dingiti.
The final award selection was done by a panel of journalists drawn from SJAK who voted.
As a result of his feat, Kibai was presented with a 40-inch flat screen television set with in-built decoders and a cash prize of Sh100,000, courtesy of award sponsors StartTimes.
"First, I am grateful to my family, secondly to the deaf federation and to all the stakeholders who have helped me to nurture my talent. Without them I would not have been here today to receive this great honour from SJAK and StarTimes," Kibai said.
He added that the award has motivated him to strive to break a world record in the 5000m and 1500m race, which he said were quite tactful in Turkey.
The StarTimes director of marketing and public relations, Japheth Akhulia, praised the awards, stating that they show how the local sports industry has grown.
"StarTimes media will always be committed to promotion of sports. That is why we are on board to embrace this award," Akhulia said.
He encouraged other athletes to work hard to get an opportunity to be identified and be contenders for the award.
"If you are an athlete, put more effort in your discipline. It is this extra effort that has seen Cherono scale heights even among able-bodied players," said Akhulia.
The SJAK chairman, Chris Mbaisi, said the association ventured into the unique monthly awards in order to give non-football players a chance to be recognised.