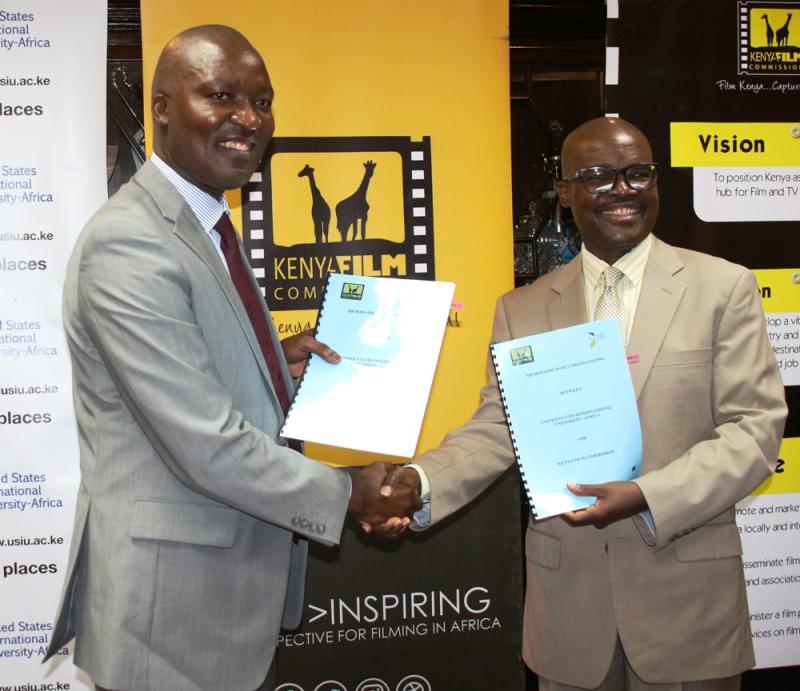 USIU-Africa and Kenya Film Commission (KFC) have signed a five-year agreement to boost film studies. The Memorandum of Understanding is aimed at making Kenya a first-class provider of screen entertainment for local, regional and international markets. To this end the university commits to provide quality and relevant training.
In the agreement, the two institutions will work together to build capacity through organising film classes, workshops, seminars, film boot camps, short courses, projects and programmes. The two institutions will also market the Kalasha International Film and TV Festivals to increase market penetration and visibility for Kenyan content at international film markets.
USIU-Africa Vice Chancellor Paul Zeleza said the partnership will position both institutions as resource centres for local broadcasters, media, film and communication researchers and scholars as USIU-Africa will be able to offer mentorship programmes for students interested in film.
"We will conduct film industry research and collect data, which will enable us to develop short courses tailor-made for industry practitioners for certification," said Prof Zeleza. Kenya Film Commission Chief Executive Officer Timothy Owase said the State corporation will continue to source and negotiate for tax relief incentives on film and animation equipment to boost the industry growth.
"We will offer guidance on standards of excellence and advocate for the use of best practice in film production while working closely with relevant government agencies to create robust and streamlined mid-level film education that will lead to more exportation of locally-made films," sais Owase.