Why Lupita's new film is a sensation among Kenyans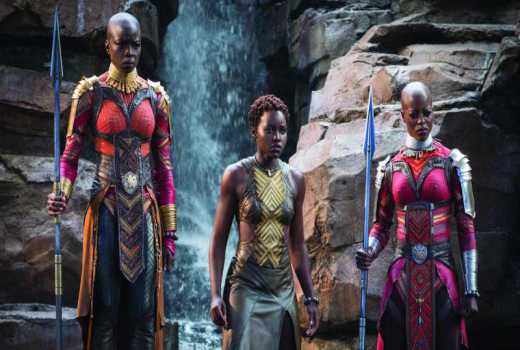 The buzz surrounding Lupita Nyongo's latest movie Black Panther has gripped the country as Kenyans continue to stream into cinema halls to honour one of their own.
This is despite the Hollywood star failing to attend its premier in Kisumu as promised and instead opted to go to South Africa where screening started last night.
The movie which was released in Kisumu ahead of the rest of the world, is set up on a fictional African country known as Wakanda.
"A gift to be back in the motherland to bring Black Panther here for the South African Premier. The joy, love and excitement here and worldwide is spellbinding. Something really special is happening," said Lupita on her Facebook page.
According to the movie, an asteroid that hit the nation hundreds of years ago brought with it a powerful extraterrestrial metal known as vibranium.
The metal's powers gives Wakanda's warriors extraordinary abilities apart from fuelling the nation's technological advancements.
But in the present world Wakanda which was never colonised continues to hide itself as one of the developing nations in order to hide itself from the capitalistic world.
Lupita stars as 'Nakia' one of Wakanda's secret agents whose job is to spy around the world to keep her country safe.
The movie has been a double score for Kenya as a Kenyan photographer was commissioned by 'Marvel,' the movie's producers to create an exclusive art piece for the launch of Black Panther for cinemas in London. His art piece called 'Ilgenulot' which in Maasai translates to 'The Chosen Ones' tells a story of three elders who were Black Panther's most trusted advisors in the movie.
Sold out
In Kisumu, the film had to be restarted after 15 minutes because of the long queue of people who had come on time – but hadn't made it into the IMAX theatre by the official starting time (8.30pm).
"Last time I watched a film here, 3D movie technology didn't exist, and I had to call my date from a phone booth at the GPO, scared her dad would pick; then come wait outside the 20th Century building for her to show an hour later," said Eric Ndavi.
"It was worth the wait," he said.
IMAX Marketing Manager Flora Kagwiria said Lupita's performance had taken cinema to another level.
"She is an inspiration to local thespians, and a fantastic African fashion icon for women, as well as a great advocate for 'black pride' in a world of yellow-yellow panthers," she said.
Lupita, daughter of Kisumu Governor Anyang' Nyong'o, started her career at the Kenya National Theatre in Nairobi before making it in Hollywood and winning an Oscar for Best Supporting Actress in 2014.
It is however the first time the actress who broke out in 2013 as part of the cast in '12 Years a Slave' has featured in a big film and the world is loving it based on the reviews the new film is getting.
Revolutionary
By Thursday evening, the movie had grosses $25.2 million (Sh2.52 billion) in sales from tickets catapulting it to the highest grossing movie of the week in the globe.
Movie critics have termed as revolutionary because of its protagonist representation of black characters in a movie, something that rarely happens.
"The presence of an African king as a main character in the film "would make Black Panther as revolutionary as the organisation with which it shares its name," said the BBC.
To fight drought, involve communities
According to the latest information from the Meteorological Department, rainfall will be poorly distributed in April, May and June, and this will have a serious impact on agriculture