East Africa's pioneer artists showcase their work at Nairobi Gallery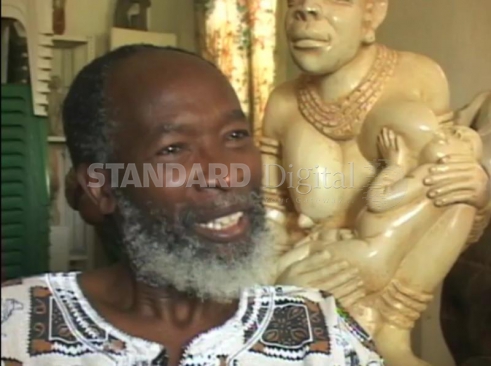 NAIROBI: The ongoing exhibition featuring East Africa's pioneer artists Elkana Ongesa and Expedito Mwebe Kibbula is a unique event which reflects on the early days of artists in this country.
The exhibition at the Nairobi Gallery which began on March 29 and is set to end next month, proves the two share a long association with the original African Heritage gallery and the late Joseph Murumbi, Kenya's second Vice President, a prolific art collector and one of the biggest supporters of East Africa's upcoming artists.
The works revolve around the post-independence days, when Murumbi dreamed of establishing a gallery to exhibit pan-African arts and crafts.
When fate brought Murumbi to the debut exhibition of Turkana artefacts by a young American called Alan Donovan, he fell in love with Africa's immense cultural legacy. And his dream was realised.
In 1972, the former VP, his wife Sheila, and Donovan co-founded the African Heritage Gallery. In addition to displaying a plethora Pan-African crafts, the gallery became a platform for exposing budding African artists that couldn't gain a foothold in other galleries.
One of the first artists to receive Murumbi's backing was Ongesa. Born in 1944 he is a descendant of generations of stone carvers in Kisii. Ongesa studied fine arts at Makere University and wrote his postgraduate thesis on stone carving while at the University of Nairobi. It was during this time that he met Murumbi. "My Uncle Nelson supplied curios to the Gallery. So one day I showed Alan and Murumbi my carvings," says Ongesa.
Art was a tough calling for Africans in the 1960s and 1970s. "Gallery Watatu and New Stanley displayed mostly Europeans art. Studio Arts 68 was basically a crafts gallery," says Donovan of the olden days.
Ongesa was the first African to exhibit at the African Heritage Pan African Gallery in 1973 together with a Nigerian artist, Bruce Onobakpeya, whose prints were admired by Murumbi. Known for his carvings in granite and soapstone, Ongesa has taken traditional art forms and shaped them into world-class work.
In the Murumbi home was a 30 ton granite 'Dancing Birds' by Ongesa that caught the eye of the Unesco director, Amadou M'Bow. Through Murumbi, M'Bow commissioned a similar sculpture for Unesco. The second Bird of Peace was gifted by the government to Unesco in 1976 and the sculpture still graces the front lawns of the Unesco headquarters in Paris.
Before his death in 1990, Murumbi had requested Elkana for a carving for his gravesite. The result was the massive, grey and white sculpture called Bird of Peace Emerging from the Stone of Despair, whose name echoes a granite statue of Martin Luther King in Washington DC.
Bird of Peace stands at the Murumbi Peace Memorial at City Park where Joseph and Sheila Murumbi are both buried. Murumbi wanted to be buried in City Park near his old friend and mentor, the Pio Gama Pinto.
In the lobby of the Nairobi Serena Hotel is Expedito's splendid metal sculpture called Meeting Place.
At the foyer of the All Africa Conference of Churches is an impressive curved wooden mural called Nature which depicts African history through intricate scenes of the natural world, culture and mythological creatures. More impressive works by Expedito are displayed at the Bambara Lounges of the Nairobi and Kampala Serena Hotels, as well as the public areas of Keekorok and Samburu Lodges.