Ojwang': The man with a knack for making the ordinary extraordinarily funny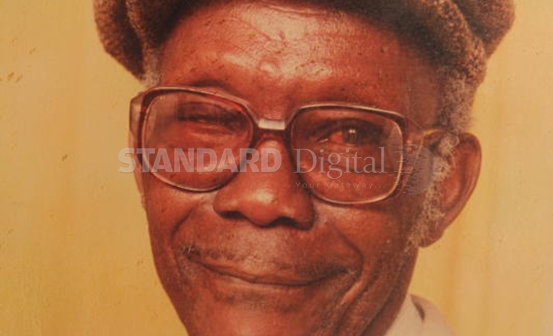 "Gary Coleman was born on the right side of the earth. Ojwang' was not!" goes a quote in a 1984 Standard Newspaper article.
Yessir, 31 years ago, when just a few Kenyans owned television sets, Mzee Ojwang' Hatari was a news-maker and a celebrity. Then, television was mostly black and white, and on watching an episode of Vitimbi then, President Daniel Moi reportedly ordered that it be shot in colour.
Around the same time, child actor Gary Coleman better known as Arnold Jackson in the American sitcom, Diff'rent Strokes was making waves. The show, which featured the famous Arnold line; "Whatchoo ya talkin' 'bout, Willis?' was also aired by the Voice of Kenya, now KBC.
But as a Vitimbi cameraman told the then Standard writer, Roy Gachuhi, as they sipped beer at a Nairobi bar, there was a marked difference between the two actors.
"Gary Coleman is a millionaire!" exclaimed the cameraman, "such a boy! Has he made 100 series of film? Never! But Ojwang' and his people? Of course, they have!"
Then, Gachuhi, in the brilliantly crafted article that ran on Friday, November 23, 1984, wrote that the cameraman, in a voice laden with tragedy added that Coleman, who earned over $70,000 (Sh7million in today's exchange rates) per episode, unlike Ojwang', was born on the right side of the world.
Well, ironically, Coleman's later life, as was Ojwang's, was a tragedy. Coleman would exit the stage at the young age of 42, a life which following his successful childhood was mired in controversy. According to an article by CNN following his death, upon reaching 18, Coleman found that his adoptive parents and his managers had squandered his fortune. He sued, and was awarded some money, which 'he lost through attorney fees and bad investments.' Six years later, Coleman sued for bankruptcy.
On his part, Ojwang' was consistent in his acting career, entertaining generations of Kenyans since the one television station state, to the airwaves liberalisation of the 90s and witnessing the historical digital migration.
But even having almost outlived Coleman to a lifetime, Ojwang' never made such money, a state of affairs that has provided for much debate since March when he underwent an eye operation, bringing his plight to public attention.
Gibson Mbugua, who plays the Inspector in Vioja Mahakamani and Ojwang's longtime acting colleague, blames KBC for dismissing the cast of Vitimbi like 'dogs' after 40 years of service. Others blame the goverment for forgetting its most famous sons and daughters– artistes', musicians and sportsmen.
Yet others believe the stars have had an opportunity, and that they should have invested during their heyday. Indeed, modern day artistes and comedians have diversified, and are acting as MCs, TV hosts and own businesses.
However, Ojwang's legacy seems not in the riches he would have accumulated but in acting as he said in that 1984 interview: "Acting is right inside me. Even if I became a director of acting or any other such thing, I would never leave the stage..."
These words might sum the way Ojwang' took life. He dedicated his role to entertaining Kenyans, and he did so with zeal, even when young blood like Redykyulass threatened to laugh them off the stage, he and his Vitimbi and Vioja Mahakamani cast sojourned on. Churchill, and his mentees, the likes of Chipukizi came along, as was another character who would be unthinkable on television in the 1970s, Shaniqua of KTN. Indeed, Shaniqua, who stars on KTN's hilarious Jameni show, symbolises a cultural phenomenon that may be uncomfortable with some; that a man can pretend to be a woman.
But Ojwang' with the ever-present, strong and no nonsense Mama Kayai, his 'artistic' wife whom many people believed is actually his 'legal' wife, brought themes of tribalism, family life, education and many more to the fore.
But his one legacy will remain in introducing the Luoness to Kenyans, despite the fact that he is a kikuyu, born Benson Wanjau. Wanjau grew up in Muthurwa and his friends were mostly Luo and Luhya. Gachuhi says the Luo accent so fascinated him that he started imitating them. Little did he then know that he would influence a generation besides giving fodder for comedians on 'Luo-speak.'
But notably, his style would not be based on tribal jokes, as has been the case with comedians of later years but he had a knack of making the ordinary extraordinarily funny. Ojwang's colleague, Mize, said: Without him, there would be something missing in Kenyan theatre."
Opportunity for screenwriters
The Writers Guild of America strike that lasted 100 days, from late 2007 to early 2008, cost Hollywood billions of dollars.