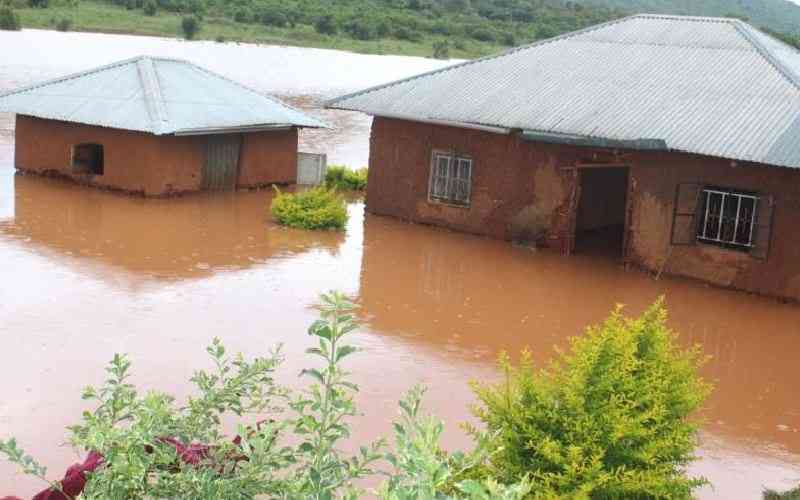 When Josphat Agola breathed his last early this year in the wake of the Budalang'i floods, thanks to water backflow from Lake Victoria, it added to his family's misery.
The waters had made them move to makeshift homes on high grounds, others to IDP camps and now their sole breadwinner (a fisherman) was dead and they had no place to bury him in line with the Abanyala customs.
The family had long lived knowing their father would be respectfully buried in his homestead at Molombe village in line with the customs, but the floods that swallowed his home also swept the customs under water.
"No doubt we (Budalang'i residents) are used to floods; they come and disappear in weeks or a few months, but the one that hit us in 2019 was and is still marooning a huge chunk of our land, including my late brother's, hit us so hard and also messed with our customs," says Calvin Wandera, the younger sibling to Agola.
"My land was swallowed by the floods, but the waters receded, leaving a dry section. I offered a part of the section to his family for his burial. There was no way he would be buried in a cemetery like the homeless, even if the floods swallowed his home."
The floods that moved some five kilometres from the lake's banks were such that two dykes the government built 20 years ago along the Nzoia River and on the southern shore of Lake Victoria could not hold.
Lake Victoria Basin Commission attributed the landmark floods to "extraordinarily heavy rains" starting April 2019 to early 2020.
The commission says the rains pushed Lake Victoria's water level up to a record 44 feet, breaking a previous feat set in 1964.
"Most of us who lost our kin had to bury them against the traditions in alternative sites away from their homes. I know my brother wished to be buried at his home but fate made us break the tradition and bury him at my place," says Wandera, as he points at a grave in his home.
Wandera also witnessed the burial of his distant kin Sabina Ngayi from Buhunga away from her home in Bukhwanga, at a relative's as the floods submerged her home.
The burials during the floods, according to the 53-year-old, were peculiar. The caskets were fastened to a rock. "We did the tying of the caskets to a rock, fearing that the floods could return and exhume the bodies. It is more tragic to see your kin's body floating on water during such hard times," he says.
Joseph Odongo, a fisherman, says the floods exhumed bodies, creating gory scenes, a thing that likely informed the community to "secure the dead."
"Some graves were turned over by the waters and the community had to refill them with rocks and sticks so that the bodies don't float," says Odongo.
Buried in hills
Those who were displaced and could not get relatives willing to accommodate their dead were buried at the Namenya Hills.
The burials were done in a rush, according to Caroline Auma, as the place is not a gazetted cemetery. "What could they have done," asked Auma.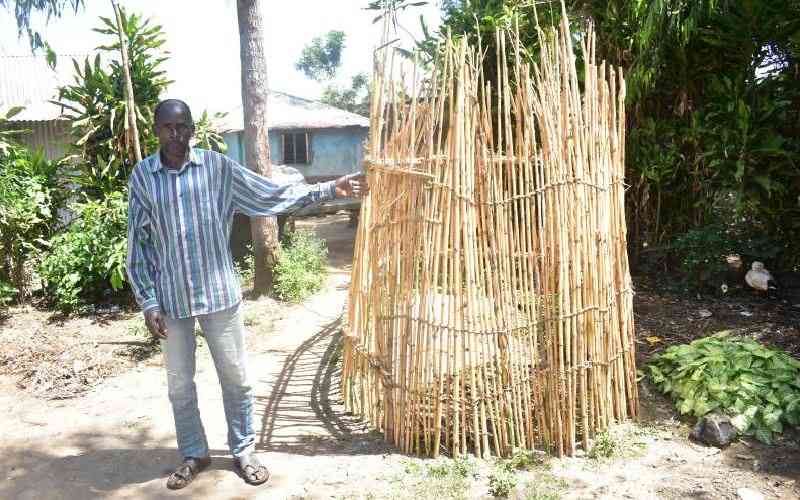 The International Federation of Red Cross (IFRC) estimated that last year alone, as many as 39,054 people from 6,580 households were still displaced by floods across 16 counties.
The statistics placed Busia among the hardest-hit areas, with 4,056 displacements, Tana River at 3,864, Homa Bay at 2,046, Kisumu at 7,704 and Migori at 5,022.
In 2020 the Lake Victoria backflow had displaced some 7,000 households, or about 28,000 people, according to IFRC. As the waters receded, people kept returning to their lands, but with caution.
Primary schools like Runyi, Musama, Budala, Maduwa, Buwango, Bubamba and Bulwanyi have also resumed lessons as the waters that had claimed their classrooms recede.
But students of Musoma Secondary School, which is still under water, have shifted to a new site.
"Our children sat for last year's exams against those who had been in better conditions across the nation. Some were exposed to teen pregnancies in IDP camps and others to frequent water-borne infections," says Auma.
A man who sought anonymity said many women walked out of their marriages during the hard times for "lack of intimacy in the tiny tents shared with children."
"It is an abomination to have intercourse before your own children. Some marriages that could not bear with that broke," he said.
"Besides, men who provided for their families through farming lost their crops to floods. The fish in the neighbouring rivers Yala and Nzoia, as well as Lake Victoria, kept declining as everyone took to fishing."
Edwin Ochieng', a victim of the floods in Budalang'i, says the calamity did not only spell doom to their homes and property but also their mental wellbeing.
"You lose a kin, your spouse walks away, your teenage daughter gets pregnant, you get home from the lake empty-handed... the world looks at you as if to say you deserve it.
"The State or well-wishers can treat us better. A Budalang'i resident should not be a symbol of mental and physical anguish," he said.
His sentiments come amidst a new WHO policy brief, launched this month in Stockholm, calling on countries to include mental health support in their response to the climate crisis, citing examples where a few pioneering countries have done this effectively.
Mental health support
"The impacts of climate change are increasingly part of our daily lives, and there is very little dedicated mental health support available for people and communities dealing with climate-related hazards and long-term risks," said Dr Maria Neira, the Director of the Department of Environment, Climate Change and Health at WHO during the policy brief.
Meanwhile, the Busia County Assembly has passed the Climate Change Act, a legislation that will guide it in tackling disasters occasioned by changes in climate.
The county's Climate Change Directorate head Dr Dan Opilo is optimistic that with the passing of the legislation, the county will be better placed to fight the consequences of climate change.
He says his directorate has been instrumental in giving warnings on floods to Budalang'i residents and even engaged in stabilising the dykes built 20 years ago. "We have also domiciled the National Climate Change Action Plan (NCCAP) as we look to develop a tailor-made one for ourselves that will help us reduce the risks posed by disaster," he says.
He, however, admits that mental health is not part of their risk reduction programme, a copy and paste of the NCCAP.
A 2021 WHO survey of 95 countries found that only nine had included mental health and psychosocial support in their national health and climate change plans.