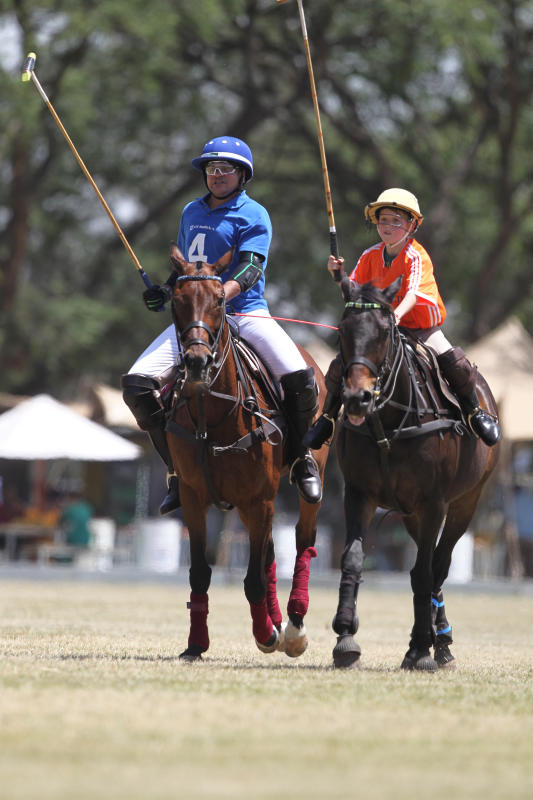 It was time for low handicap players to convince the National Handicap Committee (NHC) that they deserved to be promoted to the next level as the curtains came down on Northern Kenya Polo Championships at Timau Sports Club over the weekend.
There were three handicap -2 players who featured in the Abadan Cup with the assistance of senior players, all who have in the past feature for Kenya in international championships as Artea and Touchdown Forte won the Abadan and Timau Challenge Cups respectively.
They were Bobby Kamani, Josephine Gauld and Kelvin Jumba.
Jumba featured for Artea, the eventual winners of Abadan Cup while Kamani and Gauld were in Cruiser camp that included handicap 5.5 Casimir Gross and handicap 2.5 Izzy Parsons, the best male and female players in Kenya respectively.
Experienced and handicap 4.5 Jamie Murray and handicap 2.5 Tiva Gross with the assistance of upcoming and handicap -1.5 Lochie Murray assisted Jumba in the Artea team to lift the Abadan Cup, the second division of the tournament.
Artea beat Cruiser 12-8 on goals-aggregate to win the title.
In their round robin matches, Artea defeated Cruiser 7-2 on the first day, then drew 2-2 on the second day and on the final day, Artea dismissed Cuiser 3-2 for the 12-8 goals- aggregate win.
Despite losing, Kamani said "The event was a great learning experience though extremely challenging weekend. I've learnt an I credible amount this weekend but no amount of learning will ever be enough. I can only hope that with time and experience, I'll be able to improve on my handicap".
"I'm looking forward to this weekend's tournament having had an encouraging teamwork with Casimir (Gross), Izzy (Parsons) and Josephine (Gauld) last weekend, Let's for the best this weekend," Kamani told Standard Sports.
Kamani scored a total of five goals to emerge Cruiser's top scorer while Lochie Murray carried the day for Artea with a total of seven goals as Jumba added three more goals for the team.
On their part, Touchdown Forte stopped Topik 5-4 to win the Timau Challenge Cup.
In other matches of the Timau Stores Challenge Cup, Amistra Extra beat Syngenta 4-3 in their last match.
Fredd Kambo scored a double for Amistra Extra as Jamie Murray and Phylippa Gulden each managed a goal each. George McCorkell also scored a double for Syngenta with Jose Craig adding the third in the two chukka match.
Syngenta had earlier fallen 2-1 to Cruiser to dash their hopes of finishing at a respectable position.
FINALS RESULTS.
ABADAN CUP - Artea 12 Cruiser 9,
TIMAU STORES CHALLENGE CUP – Touchdown Forte 5 Topik 4.