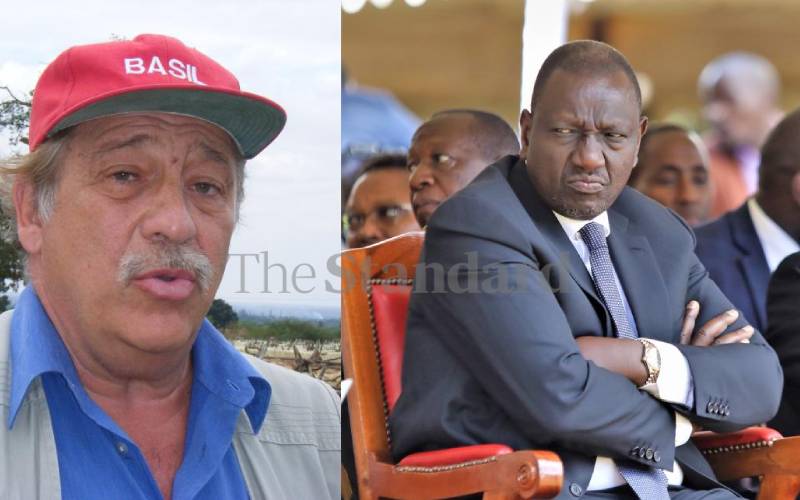 Former Taveta Member of Parliament Basil Criticos confirmed to The Standard that he indeed sold off part of his land to Deputy President William Ruto who is now farming on it and raising crocodiles on it.
Ruto bought off the land measuring just about 2,500 acres in the run-up to the last general elections for an undisclosed amount, essentially transforming him into one of the large landowners of the area.
"I sold this land to the DP a few years ago," Criticos told The Standard in an earlier interview.
When pressed to state how much Ruto bought the property for, the former MP quipped:
"That is our secret and I cannot tell you that."
But reliable estimates indicate the property could have been sold for between Sh1 billion to Sh2 billion. On Tuesday while speaking in a Taita-Taveta economic forum with local stakeholders at Luno Community Sanctuary in Mwatate Sub County, Ruto publicly declared that he was one of their own.
"Mnajua Hata mimi ni mzee wa mta. Huyu mjumbe wenu wa zamani Basil Criticos, aliniambia nimlipie deni alikuwa naye kule AFC halafu akanikatia kashamba yake kidogo pale. Mimi nikawa mwenyeji. (You know I am also an elder of this area. Your former MP Basil Criticos asked me to help him offset a debt he had with AFC and then in return he subdivided for me a small portion of his land).
Ruto then joined a long list of huge landowners, among them the family of President Uhuru Kenyatta, and Criticos. Much long before them, colonial settler Ewart Grogan annexed 122,000 acres of local land at the foot of Mt Kilimanjaro where he engaged in sisal production. It is said to have been a gift bestowed on him by the colonial government for his sterling performance in the British military. He later sold the land property to other prominent Kenyans.
Ruto is actively involved with his farm. Besides hosting his presidential bid strategy meetings there, Ruto's farming activities initially caused tensions in the area over claims of water diversion. He is raising crocodiles, livestock and promoting agri-business through irrigation. The farm is managed by South African Arie Dampers who was charged in court after he stormed a place of worship armed with a gun.
Situated along the Cessi-Jipe road the farm overlooks Lake Jipe which straddles the Kenya-Tanzania border, Vilima Viwili hills and the Pare, Ugweno and Usangi hills in Tanzania. When he bought the farm, locals were divided on the move. While some welcomed the new big man, saying he would bring new investments in their area, others claimed it was a bad deal for locals who were eyeing the land. It did not help when Ruto attempted to fence off his new investment, with some claiming he fenced a watering point, locking their livestock out.
"The investor has put up an electric fence around the vast farm. He has fenced in the only water source for the Mata Ward residents," complained the area village elder Shapashina Modukenya at the time.
Mr Modukenya and the area youth leader Paul Parit claimed local residents were not consulted when the fence was erected and they were kept out of a vital water source.
Despite being squeezed in by game parks and the large scale farms, locals also encounter an influx of illegal miners and camel and cattle herders from North Eastern occupying private property and conservancies.
The combination of these factors has seen locals take law into their own hands and invade private properties at Machungwani and AFC Farms leased to Criticos. Local leaders also claim that the land people are buying, including Ruto's, initially belonged to the local community before it was irregularly transferred to individuals.
It was surveyed and thereafter allocated to Grogan in the 1930s. Basil Criticos' family took over the land and later sold it to Dr Ruto.
"The land in dispute was initially an open area for grazing but has since been allocated to a private developer causing suffering to the locals who have been living as squatters on their own land," a former MP said.
ODM leader Raila Odinga allies in the region have also used Ruto's new acquisition to criticise him. Governor Granton Samboja has in the past accused him of blocking the road leading to Mata, and denying locals water from the Grogan canal that passes through the farm.
According to Chanzu Khamadi, one of Ruto's allies in the region and Mta ward MCA, the DP is not an absentee landlord. He said Ruto has a massive fish pond. Ruto's farm manager has also in the past promised locals of the farms corporate social responsibility.