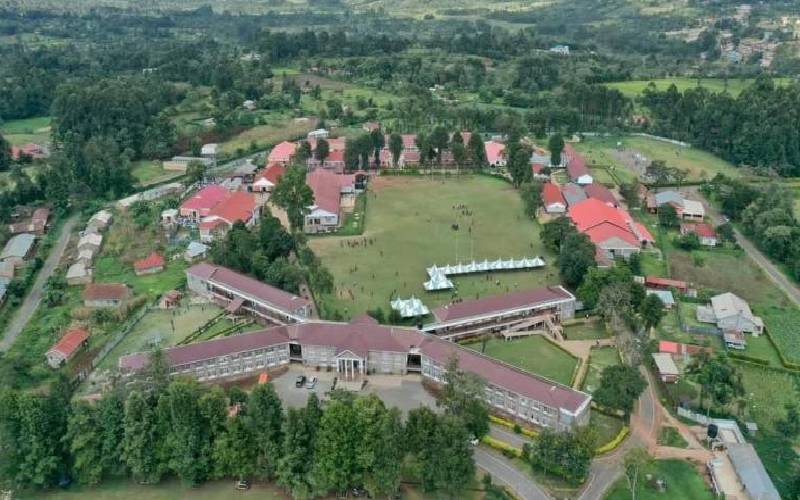 For the umpteenth time, Kabianga High School has emerged to be one of the most sought-after schools in the just concluded Form One selection.
The national school located in Belgut constituency attracted a record 142,640 applications from the 2021 KCPE class. It eventually admitted only 480 Form One students.
Chief Principal Joash Aloo argued the school is a dream school for learners due to its four years KCSE's upward trajectory. It all started in 2018 with a mean score of 6.9221, 2019 (7.7608) and 2020 (8.9968).
In the 2021 KCSE results which Dr Aloo described as the best results in the school's 33-year history, the school posted a mean score of 9.3467.
The school had 15A (Plain), 71 A-minus, 89 B (plus), 79 B (plain), 48B (minus), 34 C (plus) and 13C (plain). Aloo said the results brought to 9.28 per cent transition to university.
He attributed the school's success to early syllabus coverage and the engagement of seasoned and experienced teachers.
"The candidates also write three joint examinations with academic giant schools such as Kakamega, Mbita, Kanga and Butere High School," said Aloo.
For mathematics which is the students' favourite, the candidate write weekend mathematics speed test which after marking, best students are rewarded with goodies.
"We also have a Hero's Class which comprises candidates struggling to score above the university grade. The best experienced and seasoned teachers are assigned the class," said Dr Aloo.
In the 2021 class, all the candidates who were in the Hero's class scored a grade of C and above which was the last grade at the school.
Aloo attributed the KCSE exemplary performance to the schools' deliberate effort to create a leaner-friendly environment and a broader curriculum.
The principal who joined the school in June 2015, said he found a school with humble facilities but very rich in heritage.
"The onus was to turn around the school into an attractive learning environment and a center of excellence," said Aloo.
He says the school has a supportive Board of Management (BOM) and a strong parents association. The school's diverse curriculum has a keen eye on unique subjects such as Aviation, Electricity, Drawing and Design, Wood Work, Music, French and German. In 2019, the school represented the Great Rift Valley region at the Kenya Secondary School Sports Association. The school's rugby 15S, took part at the national competitions in Mombasa.
Out of the 2019 rugby team, Thomas Okeyo, Idd Kanguma and David Williams were featured in the Kenya National Team Rugby 15'S and Safaricom 7'S.
"Okeyo won a scholarship to Join University of Johannesburg courtesy of his excellence in sports," said Dr Aloo.
The school has also been involved in Corporate Social Responsibility programmes. "Last year, the school through the participants of Presidents Awards Scheme contributed Sh60,000 and constructed a semi-permanent house to a resident of Kaplong," said Aloo.