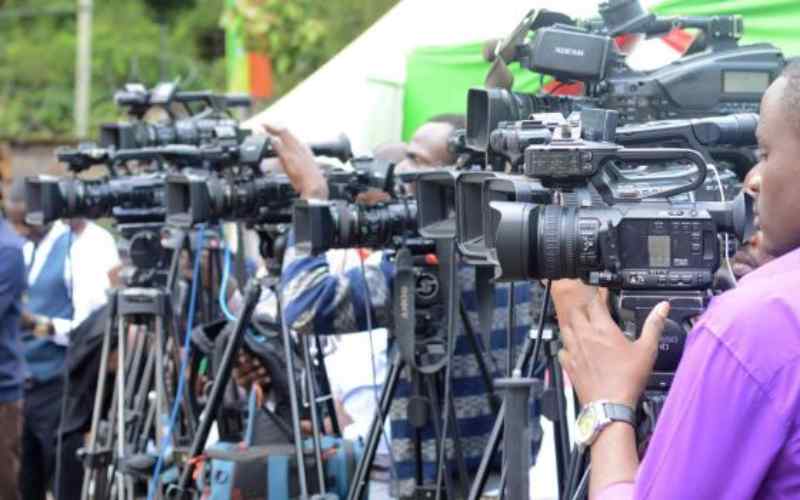 The Kenya Correspondents Association (KCA) has called on all media stakeholders to ensure journalists get a facilitative work environment ahead of the 2022 General Election.
This comes at a time when journalists across the globe are preparing to mark the World Press Freedom Day, celebrated on May 3 annually.
In a statement, KCA chairman Oloo Janak has urged media owners, the regulating bodies and the electoral commission to work together in ensuring journalists are safe while in the line of duty.
"As we mark this important event, KCA wishes to call for greater awareness and protection of journalists from digital surveillance and other forms of threats to their safety and security in their work, and especially ahead of the General Elections in Kenya due on August 9, 2022," Janak's statement read in part.
Then added, "While we urge journalists to demonstrate courage, renewed commitment and ethical conduct in their work, we wish to emphasize that media managers and owners have a duty to offer journalists and other media workers the needed support, including improved remuneration, especially to the correspondents who work in difficult environments that expose them to various vulnerabilities,"
The association has also asked the stakeholders in the media industry to promote press freedom by creating an environment for journalists to offer 'effective and fair coverage of the electioneering process and the actual elections'.
KCA has been rallying journalists for the May 3 celebrations since 2018.
This year, the association aims at marking the event in about 20 counties.
"Key locations for the activity include Mombasa, Kilifi, Kwale, Makueni, Machakos, Kitui, Meru, Nyeri, Kirinyaga, Nakuru, Kericho, Eldoret, Kitale, Lodwar, Bungoma, Kakamega, Busia, Kisumu, Siaya, Kisii and Migori," Janak stated.
May 3 was set aside to celebrate the freedom of the press, evaluate press freedom around the world, defend the media from attacks on their independence and pay tribute to journalists who have lost their lives in the exercise of their profession.
The world will mark the day tomorrow, at an event running from May 2-5.
The event has been organized by UNESCO and the Republic of Uruguay in Punta Del Este, Uruguay.
The theme of the event is Journalism Under Digital Siege.
The Conference will mainly focus on the impact of the digital era on freedom of expression, safety of journalists, access to information and privacy and will develop concrete recommendations to address these challenges.
"World Press Freedom Day 2022 will reunite relevant stakeholders such as policymakers, journalists, media representatives, activists, cybersecurity managers and legal experts to explore these issues and develop concrete solutions to address the threats posed by increased surveillance to press freedom and privacy," says UNESCO
May 3 was set aside to celebrate the strides made in terms of the freedom of the press, dubbed World Press Freedom Day.
The decision was reached at after a proclamation by the UN General Assembly in 1993 following a recommendation implemented during the twenty-sixth session of UNESCO's General Conference in 1991 held at Windhoek, Namibia