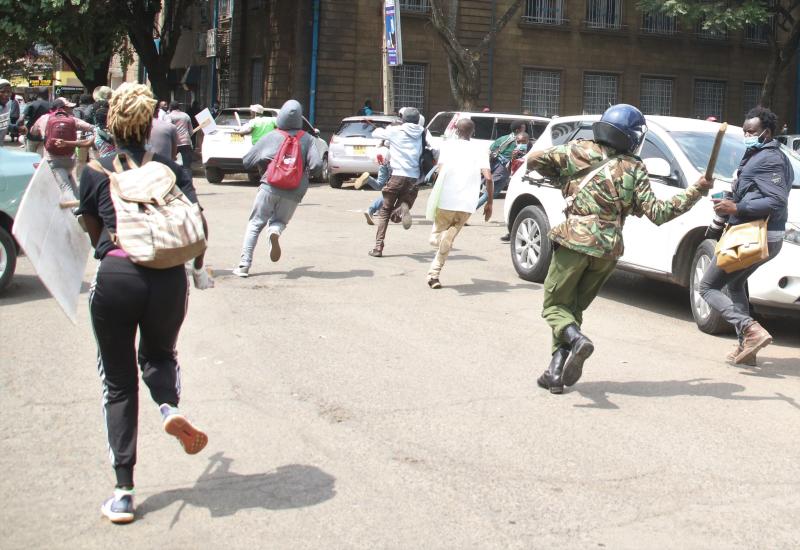 A man and his grandson have sued the government over alleged police brutality.
James Mwaura Waweru and James Mwaura, in their court papers, narrated a harrowing experience at the hands of police officers who were enforcing a nighttime curfew to contain the coronavirus.
The pair said the officers trumped-up charges against them in order to conceal their atrocities.
The incident which allegedly happened on June 22 last year started at around 8pm. Mr Mwaura narrated that he was on his way home from work when he encountered a group of men in civilian.
According to him, he 100 metres from his home which he shares with an extended family.
Curfew time had been set between 10pm and 4am. The men in civilian who he later learnt were police officers allegedly handcuffed him at his gate and started beating him up.
According to court record, the officers said to be from Joska Police Station demanded that he parts with Sh5,000 for his freedom. However, Mr Mwaura, 26, informed them that he had Sh500.
They are said to have demanded his mobile phone but he declined, prompting a thorough beating.
The commotion attracted his wife who screamed to alert, among other people, the grandfather.
"The third petitioner on hearing the alarm went for his keys and opened the main gate to the common residence and approached one of the police officers that he identified as Police Constable (PC) Wafula and asked him what the second petitioner had done to warrant the vicious assault that was being meted upon," court papers filed before High Court judge Anthony Mrima read in part.
The two have lodged the case alongside the Independent Medico-Legal Unit. They have sued Interior Cabinet Secretary Fred Matiang'i, Inspector General of Police Hillary Mutyambai, Attorney General Kihara Kariuki, Jeremiah Kiptum, Calestous Wafula and Stephen Mwendo.
The complainants' lawyers said the old man was hit with the butt of a firearm on the heard and collapsed. "The State failed to take effective measures to prevent acts of torture during curfew."
They want the court to award the costs of the case.