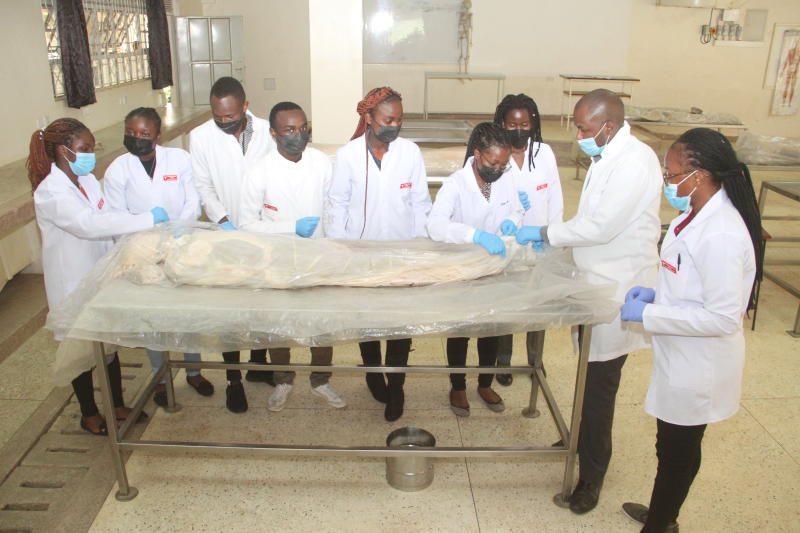 It is a hot Wednesday afternoon inside a laboratory where first year medical students have gathered around a body on a table.
The cadaver will be at the centre of training for the Bachelor of Medicine and Surgery students at Jomo Kenyatta University of Agriculture and Technology.
On this day the lesson is on the structure of a human body. The excitement among the students, who are clad in lab coats, gloves and face masks, is palpable.
This is the first step in a long journey in the study of the internal workings of the human body as they prepare for what awaits them in the world of medicine and surgery.
You would mistake the laboratory for a mortuary. It has 40 bodies lying on tables and covered with plastic sheets.
The lab also hosts body organs including hearts, brains, livers, and different types of bones that have been harvested from the cadavers and preserved. In addition, the lab has preserved fetuses for the study of embryology.
The students are part of over 1,000 learners at JKUAT who rely on the lab for their lessons. But, according to Grace Gathoni, who is in charge of the lab, the bodies are too few.
"Some of the cadavers have been here for many years while a few were brought in about a month ago. They are not enough for all the students pursuing the 17 health courses at JKUAT," said the lab technologist.
Just like other universities, JKUAT, with a population of between 110 and 150 students per class, is grappling with a shortage of cadavers.
Joseph Kweri, the chairperson of the Human Anatomy Department at JKUAT, said the demand for cadavers has risen sharply.
"We have to make prior arrangements with hospitals and mortuaries to give us unclaimed bodies," Dr Kweri said, adding that the university sources most cadavers from as far as Kapenguria, Kericho, Nanyuki, and Makindu.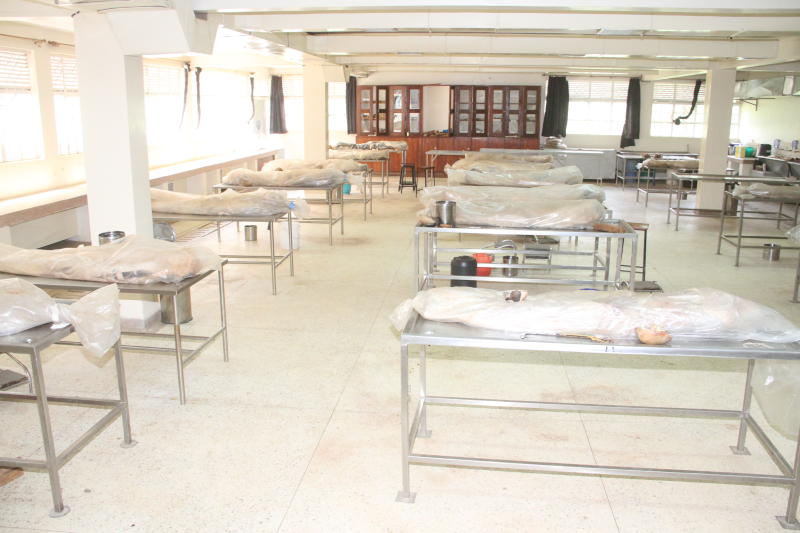 "Those who live in these areas are mainly pastoralists. Some do not place emphasis on burying their dead and abandon their relatives in hospitals and mortuaries. These are the bodies we get for our studies," said Kweri.
He said it can take up to six months to complete the process of securing a single body.
"Universities compete for these bodies because it's not something you get easily. For JKUAT, we used to get most bodies from Kajiado and Nakuru. However, we are having challenges because of competition from the many medical colleges that are coming up. We have to make prior arrangements with county health departments to get dead bodies.
"Every course has its own philosophy on learning anatomy. General surgery students approach anatomy differently from those studying orthopedics or neurosurgery. Every medical course is different.
"We need a minimum of 10 bodies for a single class. The demand is quite high. We must have not less than 25 bodies in the lab at any given time. Yet even the unclaimed bodies are not always forthcoming," the lecturer said.
A single body can be used by between eight and 10 students at any given time. That is why there has been an appeal by universities and students for families to donate the bodies of their loved ones for studies.
"Why would a body be buried when it can be used for learning purposes? Donating a body will help students acquire skills that will enable them to save lives," said Kweri.
But cultures that require communities to bury their dead will always stand in the way for universities to get enough bodies for training.
"Culturally, there is a form of satisfaction that comes with seeing a loved one's grave within the homestead in some communities. That is why they insist on burials even though it adds no value," said Kweri.
Since JKUAT's College of Health Sciences was established, only two bodies have been donated. In some instances, Kweri said, those donating bodies demand money the university may not have.
"We do not buy bodies because they are meant to be disposed of. There is a legal process that must be followed by those willing to donate their bodies upon death. One must declare and swear an affidavit in court that they want to donate their body to a school and since we belong to a community, your family must agree and sign off on the proposal," said Kweri.
He added, "I also want my body to be donated for teaching medical students and I have told my family as much. There is no point spending money to organise a burial when the body can benefit students."
Stephen Macharia, chairman of Kenyatta University's Department of Human Anatomy, said there was an instance where a person had pledged to give his body but after he died, the family objected.
"Even if one writes in his will that their body should be donated, a university will not get it if the person's family disagrees," said Dr Macharia.