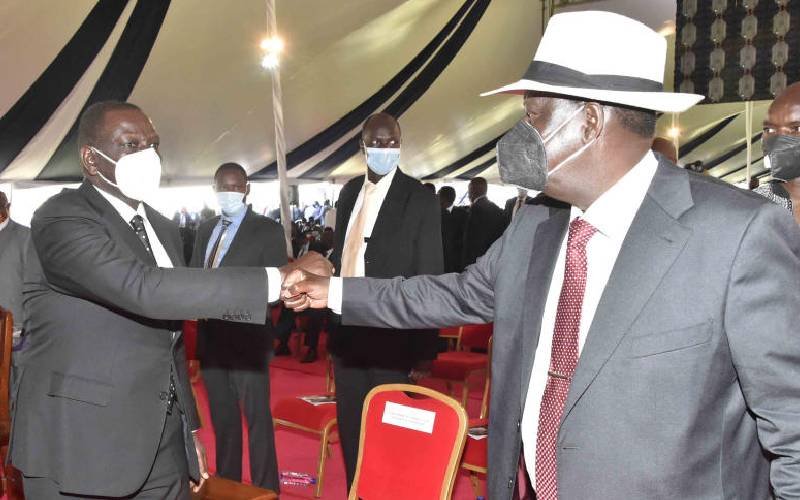 If at the height of the covid-19 pandemic, when most movement was curtailed, someone told you that he was able to enable your movement from point A to B, the most logical question you would ask is, 'how?'
It is one thing to tell someone what you can do, but it is another to tell him how you will be able to do it. This is the quagmire that Kenyans are in months to the August 9 polls. Promises are being made all over. The ones that are getting more attention are from the two main presidential contenders; William Ruto and Raila Odinga.
Ruto on one hand has pegged all his promises on the need to revolutionise the economy from 'trickle-down economics' to 'bottom-up model. In many of his campaign speeches around the country, he makes it clear that the model will be defined by several funds that will be created for Kenyans; at the bottom. He mostly speaks of a Sh50-Sh150 billion fund for small scale business people.
Raila on the other hand has promised a Sh6,000 stipend for two million most vulnerable families. He has also promised that his government will strive to make all basic services such as health and education available to all. Very nice proposals.
However, this will definitely be the first time, promises of this kind have been made and some attempts made at achieving some of them. Earlier on in his administration, former president Mwai Kibaki created two funds; Women Development Fund for women and Youth Development Fund for Youths.
Just like Ruto's model, these two funds had and still have the same intention of availing affordable loans to youths and women across the country. So, making money available to youths and women is probably not the only solution.
There are other significant issues such as the environment in which most small businesses operate, licensing, corruption among others. The question is, is there a scientific backing that these funds would be able to create four million jobs as promised?
Similarly, Raila's promise of availing funds to vulnerable groups of Kenyans is already being implemented through the Ministry of Labour and Social Services. As we speak nearly a million of them-majority being the elderly, have not received their stipend for six months. The promise is that they will be paid soon in arrears but partially.
Raila's blueprint should address how his government would be able to avail constant funds to sustain the programme without fail.
First, the economy must grow to be able to sustain such a large fund that will approximately be around 150 billion. Raila believes that tackling corruption is enough to avail these funds. However, the question still reigns; how?
The writer is an anchor at Radio Maisha