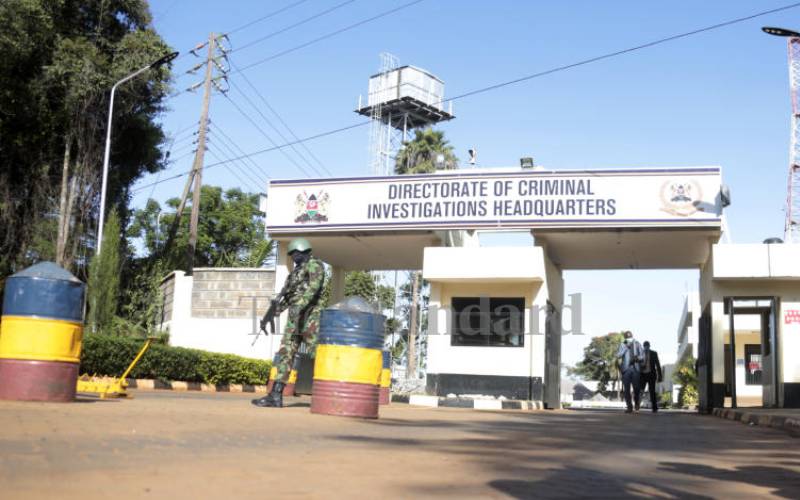 A 27-year-old man who surrendered himself to the police after reports he was among seven wanted terrorists has been freed.
Robert Gathongo Ngunjiri presented himself to the police on Thursday after his photo was circulated, indicating he was among those the police were looking for.
However, Nyeri Sub County Police Commander Paul Kuria sought to distance himself from the matter saying the information linking Ngunjiri to terrorism did not originate from his office but the DCI's.
"He got the information that he was being sought from the DCI before surrendering to a local police station. We have allowed him to go home. He was not detained. He was only asked to report to the station on Friday before he was released," said Kuria.
He however said the man was convicted for robbery with violence in 2014 but was released after an appeal.
"Detectives are searching for Abdurahman Hija, nicknamed Mnubi, who hails from Nyeri County. He is part of a criminal gang terrorizing residents of Nyeri," said Kuria.
Hija is believed to have then escaped to Somalia, joined al-Shabaab, before returning to Kenya in 2016.
Detectives had claimed Ngunjiri was among eight suspects recently dispatched by al-Shabaab to Kenya to commit acts of terror.
Other suspects said to be on the run are Abdikadir Mohamed Abdikadir, who is said to have been involved in planning the Dusit attack of 2019 and 2010 Kampala bombing, Peter Gichungu, Mohamud Abdi, Kassim Musa, Mohamed Ali Hussein, Ahmed Mohamed, and Erick Njoroge.