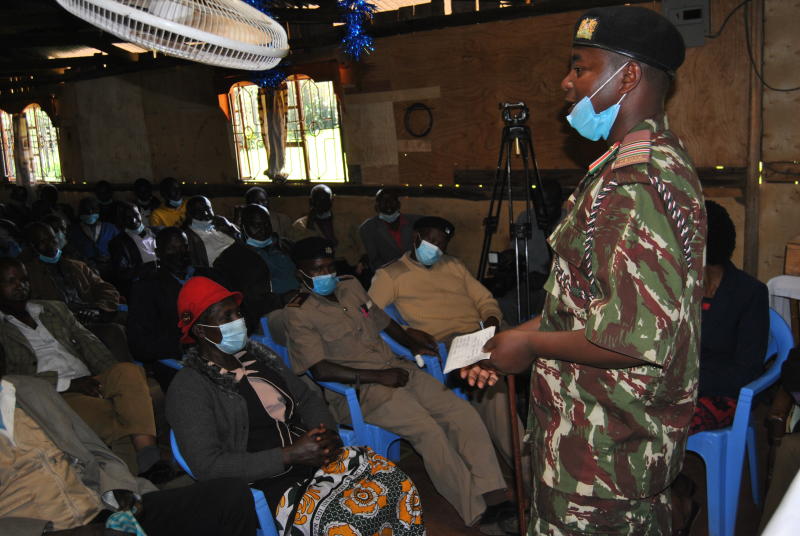 The government has issued a 40-day notice to families evicted from the Maasai Mau forest to move out of a camp they had set up in Saptet area.
According to Narok South Deputy County Commissioner Felix Kisalu, the camp that hosts 1,000 people who were evicted from the forest in 2019, is a security threat.
"From now you (evicted families) should stop entertaining the false hope that at one time you'll get back to the forest. That chapter is now closed. Start thinking of starting your life afresh outside this camp," said Kisalu.
The camp which is located at Sagamian, the border of Narok and Bomet counties is the only camp hosting homeless people who were evicted from the forest in November 1, 2019 to pave way for rehabilitation.
Kisalu reiterated that the camp was supposed to be a temporal residence and that time was up for the evictees to move on.
He encouraged those at the camp to form groups so that they can apply for interest-free government loans which will enable them to engage in meaningful businesses outside the camp.
The displaced persons have camped in a three-acre parcel of land that was reportedly bought for them by Deputy President William Ruto.

On what necessitated the closing of the camp, the administrator said he was responding to rampant cases of insecurity, prostitution, illicit brews and drug abuse syndicates that has contributed to deterioration of security.
"This camp has turned out to be the biblical Sodom and Gomora. Bhang, illicit brews, defilement and murders have been the order of the day here and we fear that the same might worsen as the August 9 General Elections nears," the administrator warned.
When the meeting was called, the residents thought that the government was about to offer them some sort of relief but that was not to be.
John Barsuguta, one of the Nyumba Kumi officials had earlier asked the government to erect solar-powered lights to curb the growing incidents of crime at the camp.
"We are living like wild animals. No lights at night and this has led to some men creeping to other men's houses raping women and girls," lamented Mzee Barsuguta.
He also complained that some boda boda operators have been ferrying illicit brews and bhang at night worsening the life at the camp.
Kisalu however, pledged that the government will not forget them once they vacate the camp since their records are available for any assistance.
"You (evictees) should know that one does not need to own land to prosper. There are over eight million Kenyans living in Kibera and other slums yet they do not have land," he advised.
A section of the people, however, protested the plan by the government to kick them out of the camp terming it as unfair and inhuman.
Charles Kitur expressed his disappointment saying that he has nowhere to go since he sold his land in Nandi to but land in Mau forest.
"I sold my five-acre land at Chepkumia in Nandi County and bought 18 acres in the forest where we were evicted. Now I can't go back and reclaim my land from whoever bought it. Why is this government oppressing us?," posed Kitur.
During the November 1, 2019 evictions, the government kicked out over 35,000 residents and reclaimed some 40,000 hectares where already over three million seedlings have been planted.