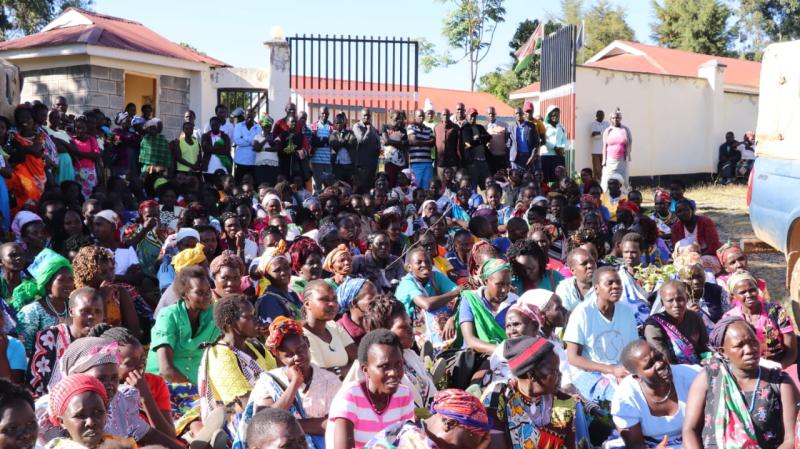 Women in Kerio Valley trekked 20 kilometres to demand the transfer of security officials in the volatile area over security lapses.
Kerio Valley has witnessed cattle rustling and bandit attacks for decades, resulting in deaths and loss of propriety.
The protesters, who included widows, walked to Marakwet East Deputy County Commissioner Simon Osumba's office in Chesoi.
They threatened to stage another march from the troubled area to State House, Nairobi, to ask President Uhuru Kenyatta to address insecurity in Kerio Valley.
Since June last year, deadly attacks in the area have resulted into more than 50 deaths.
The Monday protests were the third in the last three months. In October, hundreds of locals protested in Liter after a woman and her two children and an agricultural officer were killed.
Another demonstration took place in November after four herders were shot dead.
They demanded the transfer of senior security and administration officials in Elgeyo Marakwet, saying that they had failed to contain the situation.
"Young men are killed in villages but security apparatus claim they are shot dead along the borders in River Kerio. It is no longer cattle rustling because a woman and her two children who were harvesting millet in Liter were shot dead," Rosemary Cheboi, a widow, said.
Ms Cheboi said they braved hot sun in their walk from Sambalat to Chesoi to present their grievances to the government.
"There were gunshots as we marched to the sub-county headquarters, but we were determined to present our complaints to the government," she said.
Extent of attacks
She added: "We are tired of children asking us where their fathers (who were killed in banditry attacks) are. Many children in Kerio Valley have no fathers."
Local leaders who accompanied the protesting women claimed that President Kenyatta was not being briefed on the extent of the Kerio Valley attacks.
Elgeyo Marakwet Deputy Governor Wisley Rotich faulted security agencies for failing to act firmly against bandits.
Rotich has highlighted 21 short and long-term solutions that if implemented, he says, will stem the menace.
"When, for example, a Kenyan in Nairobi is killed in Nairobi, the suspects are arrested and prosecuted. But when it comes to Kerio Valley, elected leaders are told to dialogue with bandits. How can I speak with an armed criminal? The government has a solution," Mr Rotich said.
Woman Rep Jane Chebaibai said she will lead a peaceful walk to State House to ask the President to order the security apparatus to end the killings.
"We are proceeding to State House if the local security officials fail to act," Chebaibai said.
Nominated MCA Neddy Kiptoo said it is puzzling that tens of people have been killed in less than a year, yet no suspect has been arrested and prosecuted.
Ms Kiptoo said top security bosses in Elgeyo Marakwet and neighbouring counties have failed in their role of protecting Kenyans and their property.
"We are asking the President to tour Kerio Valley and personally assess the damages caused by banditry attacks because it appears like he is not adequately briefed by security officers on the ground. Many people are dying," she said.
Osumba, the Marakwet East Deputy County Commissioner, said 60 people had been killed in Kerio Valley banditry attacks since June.
"I apologise if there is a mistake we have done on our side (as security agencies)," he said.
He said the attacks escalated after warring communities engaged in retaliatory attacks.
Kerio Valley cuts across three counties of Elgeyo Marakwet, Baringo and West Pokot.