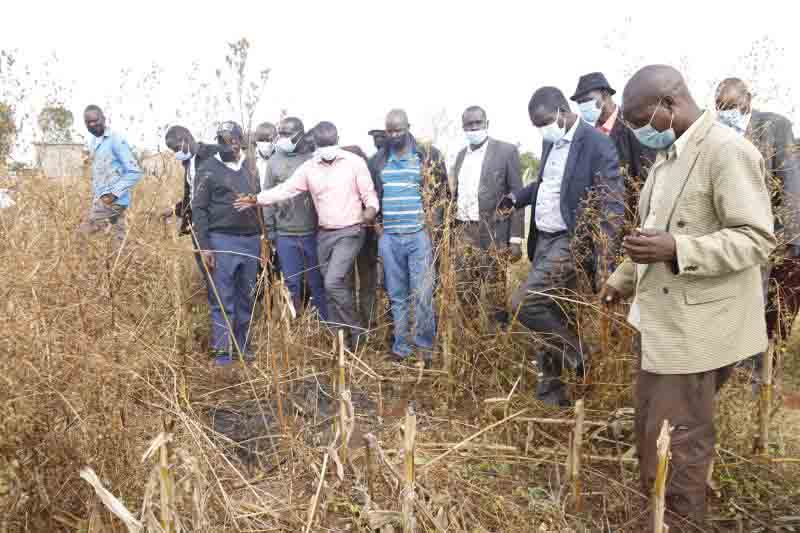 Residents of Kiplombe in Turbo sub-county, Uasin Gishu, have asked the Lands Ministry to issue them with title deeds to a disputed piece of land, which the military is also claiming, to end perennial conflicts that led to the killing of two people.
Four other people were injured when villagers from Chebarus confronted Kenya Defence Forces (KDF) soldiers from Moi Barracks who had reportedly arrived to demarcate the land, install a military communication booster and install beacons.
The shootings happened as soldiers tried to rescue their colleagues and surveyors who had been held captive by irate villagers at Chebarus Primary School, which is on the disputed land.
The villagers claimed that they had been living on the land since the 1960s when their parents reportedly bought it and should therefore be given ownership documents.
Those who spoke on Wednesday during the burial of one of the victims, Joel Keter, said it is only fair that they are given title deeds. They called for President Uhuru Kenyatta's intervention to end the long-standing row that has disturbed the peace of the area.
Keter, 51, was killed alongside Eliud Menjo, 47. Mourners also called for justice for the victims and their families.
"We are calling on the president to intervene and help us resolve the land dispute. Residents, who are the legal owners of this land, should be given title deeds," said one of the villagers, Julius Kitur, even as he condemned the Christmas Day killings.
Another villager, Tonny Tanui, who is also the secretary of Kiplombe 9 Farms that form part of the disputed land, said: "We hope the blood that was shed on the day we were to celebrate Christmas and have a good time with our families will be the last. We hope the standoff that has existed between us and the KDF, who have been our neighbours for decades, will end."
Some of the residents called on thegovernment to establish a buffer zone between KDF land and the villagers.
"Despite the conflict, we have been neighbours for many years. We have shared many good moments with the soldiers. We have also partnered on some issues like security and the soldiers have even shared meals with the people," said Tanui.
However, Tanui said the peace and quiet they enjoyed has since been compromised, thanks to the presence of the military.
"It appears the soldiers have turned out to be our worst enemies. They harass and kill our people instead of nurturing and employing them to join the KDF," said another villager, who declined to be named.
The families of Keter, Menjo and those who were injured, confirmed receiving Sh1 million from the government.