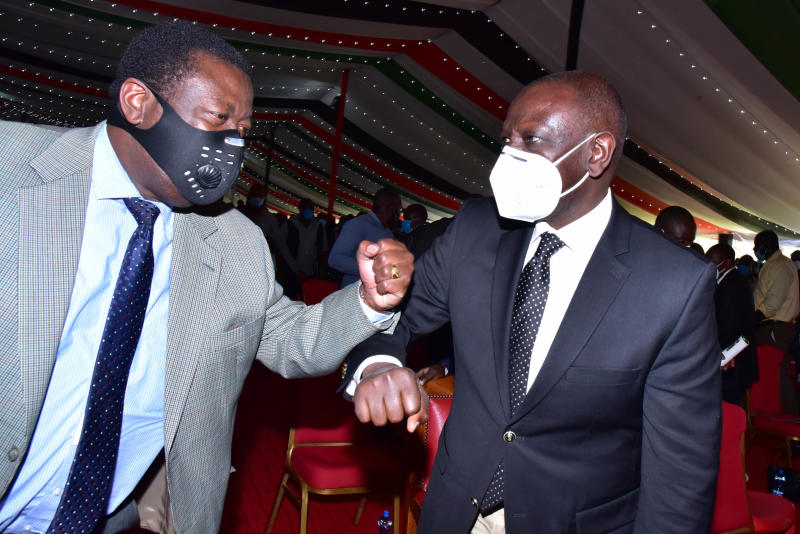 We hear through the political grapevine that Musalia Mudavadi and William Ruto are crafting a 2022 deal.
Nothing can be far from the truth unless, as I have always said, politics has changed its definition from a dirty game. Mudavadi is unlikely to be Ruto's running mate.
David Shenk, an American writer and author of The Immortal Game: A History of Chess, posits that "chess is rarely a game of ideal moves. Almost always, a player faces a series of difficult consequences whichever move he makes."
To borrow from Shenk, allow me to say that politics isn't a game of ideal moves. Always, politicians face a series of complex consequences, whichever move they make. On the political chessboard, Mudavadi is symptomatically in that situation.
Note that Mudavadi and Moses Wetang'ula, now in OKA, have been upfront political underwriters in the western region. Mudavadi has been a strong candidate heading a weak party, while Wetang'ula has been a light feather candidate running a strong party.
To weaken Mudavadi, one needed to strike him as the shepherd and the sheep would scatter. To drain Wetang'ula, what was needed was to hit the sheep, and the shepherd would scatter. Raila Odinga and Francis Atwoli used Bukhungu II and the DAP-K party formations for such ends because politics is a game.
However, Mudavadi has articulated his economic recovery agenda soundly. He is an embodiment of passion in matters economy and what Kenya needs to move forward. However, presidential politics in Kenya requires the shrewdness of a serpent - he must personify such because the political heavens have asked to sift him as wheat.
Why do I say so? During the Cleo Malala super cup in Mumias, Kakamega County, Dr Ruto said that he had the blessings of Mudavadi. The seventh Vice President of Kenya and former Deputy Prime Minister has vehemently refuted the claims.
Seemingly, he has the support of Cotu's secretary-general Francis Atwoli who says that "there is no way Musalia can allow himself to work with Ruto". Since Bukhungu II on the eve of 2022, Atwoli and Mudavadi have had eyeball to eyeball confrontations. Could it be that Atwoli doesn't want to see a suitor close to his ex?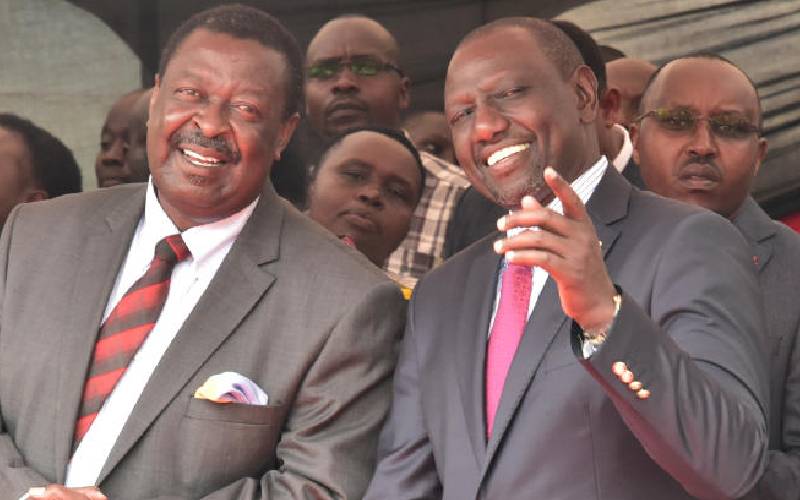 If that is true, then Mudavadi is acting politically as a spouse who marries immediately after a divorce to prove to his ex that they weren't desperate after all. On this, I can only say that a man's actions appear good in his heart, but the heart's motives are what makes them sustainable or not. Should Mudavadi join the hustler movement, there are some doubts that Ruto can prefer him as his running mate. However, Ruto is taking political prisoners of war in his camp, and he's the one to decide their fate.
First, like Raila, Ruto is also facing Mount Kenya for a running mate. So the DP can't make the mistake of having Mudavadi as his running mate at the expense of the vote-rich Mount Kenya region. However, if Mudavadi is only interested in splitting the western region vote and frustrating Raila and Atwoli's Bukhungu II resolutions, he can take less from Ruto. But isn't that playing the politics of emotions?
If Mudavadi can have an honest political diviner to interpret the writing on the political wall, he would concede that Bukhungu II bundled the Luhya nation vote in favour of Raila. A few days before the December 31 convention in Kakamega, I said that if Bukhungu II endorses Raila, Mudavadi would be boxed in politically. It came to pass!
That doesn't mean Mudavadi is a political lightweight. His move to UDA can toss a chunk of western votes to Ruto and winnow others in the air to hit back at Atwoli and Raila. This would mean that Mudavadi could take anything from UDA, provided he's offered the ground to launch his political artillery. That, however, would be political simping beyond Mudavadi's decencies!
Dr Ndonye is a lecturer of communication and media. @Dr_Mndonye