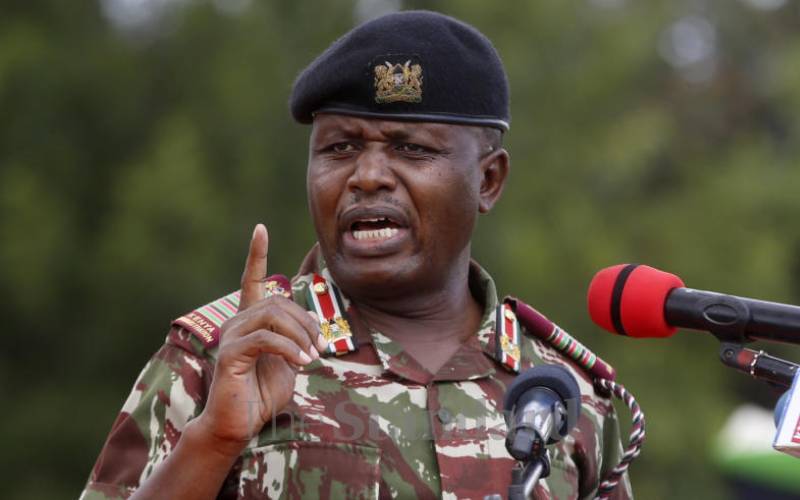 The race to succeed Trans-Nzoia governor Patrick Khaemba is taking shape following the entry of Rift Valley Regional Commissioner George Natembeya.
Natembeya's entry has caused panic and some aspirants among them Kiminini MP Dr Chris Wamalwa who had earlier been seen as a front runner for the seat now have to restrategise.
Political temperatures are high as Wamalwa and Natembeya intensify their campaigns and have clashed in public on two occasions.
Wamalwa had been the only politician who had declared his intention to succeed Khaemba but the tough speaking administrator is now giving him sleepless nights.
Wamalwa had earlier dismissed Natembeya but has come to terms that the administrator is a serious competitor.
For the past five years, Wamalwa has been crisscrossing the county to popularise his bid.
From churches, public events to funerals, the presence of the second term legislator has been felt.
In the absence of formidable challengers, Dr Wamalwa had in the past dismissed other aspirants eyeing the post.
Maurice Bissau, Khaemba's main challenger in 2013 and 2017 polls, and Dr Abraham Singoei have also been popularising their bids for the seat.
Sources said that the new development has forced the Kiminini lawmaker to go back to the drawing board after the entry of new competitors among them Natembeya.
Before Natembeya made his quest public, Wamalwa dared him to remove his official uniform and face him in politics.
"I dare him if he is fully in the race, to remove his uniform and face me," said Wamalwa.
Wamalwa hit out at Natembeya for allegedly 'being used by Devolution Cabinet Secretary Eugene Wamalwa' to deny him the opportunity to succeed Khaemba.
Natembeya has termed the claims 'baseless and lacking merit.'
"I know you are being fronted by Eugene Wamalwa who is not brave enough to face me. I am ready to square it out with anybody," Wamalwa told Natembeya on October 9, 2021, at the burial of former ambassador Orie Rogo Manduli in Saboti.
But Natembeya insists that nobody is pushing him to join the race but personal desire to bring change in the county.
"I am my own man. Nobody is pushing me to contest as alleged by Wamalwa. My desire is to transform the county for the betterment of the residents," Natembeya said.
Natembeya's appearance in public events and funerals the county lately has watered down Wamalwa's popularity.
Political observers say that Wamalwa is now on shaky ground.
His style of politics and his closeness to governor Khaemba, is set to haunt his bid, some local residents claim.
"The MP's brand of politics and disrespect to other elected leaders are the big mistakes and communities would prefer a sober governor," argues Emmanuel Waswa, minority leader at County Assembly.
Wamalwa like Khaemba, are supporters of Ford Kenya.
"People feel that Wamalwa, who campaigned for the re-election of Khaemba has to share in the poor development record of the county government," argues Dennis Wambalaba, a local political analysts.
Wamalwa bases his victory on dominance of his party, Ford Kenya FK in the region.
Some residents believe that Natembeya is the right person to transform the county.
Peter Omache said Natembeya's track record as a public servant gives him an advantage against Wamalwa.
"Many admire Natembeya's administration styles and expect him to transfer the same into the next administration of Trans Nzoia County," claimed Omache.
Natembeya is yet to identify with any political party but a confidant said he is likely to contest on Democratic Action Party of Kenya (DAP-K). The party is linked CS Eugene Wamalwa.
"Parties are luring him but he is yet to make a decision. He is likely to fly the DAP-K flag," said a confidant who did not wish to be named.
And Woman Representative Janet Nangabo has also intensified her campaigns for the seat.
Nangabo said she is ready for political battle in the male-dominated race, adding that she will give her challengers a run for their money.
An associate of Deputy President William Ruto, Nangabo claimed that men have failed to deliver to the voters.
She said her quest to become the second governor is to bring transformative changes in the county and liberate voters from poverty.
"Men have failed this county. Time has come to test a woman in the top leadership of the county. I challenge men to pull out of the race and support me," Nangabo said in Kitale.
She believes she has what it takes to become second governor.
"Men have failed this county. Time has come to test a woman in the top leadership. I challenge men to pull out of the race and support me," she said.
Nangabo promised to bring desirable economic changes that would tame poverty.
The establishment of a maize milling plant and provision of tapped water to homes are some of her economic agenda.
"It is uneconomic to produce maize in the county, then it is shipped to Mombasa where it is milled, and the end products are sold to us.
"My government will ensure the establishment of a maize milling plant so farmers can enjoy the benefits of value addition," she said.
"I will ensure there is piped water to save women and children from the endless journeys."
She is likely to face Bissau in UDA nominations.