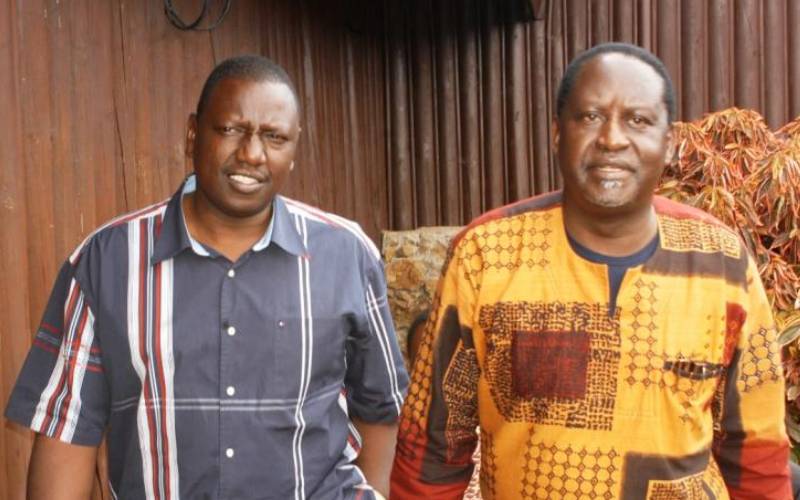 The serpent hisses where the sweet birds sing. The punch-up in Parliament this week brings back Thomas Hardy's famous words with a sense of terrible foreboding.
Kenya is a country where political competition is a do or die affair. Even small balloted successes are celebrated with glee. And the glee is itself answered with violence. General Elections are not just a means whereby citizens choose their next set of leaders. They are, rather, vehicles through which hegemony is either taken or sustained. If the fight is lost at the ballot, the bullet takes over.
President Uhuru Kenyatta's tenure is in twilight. Sweet birds are gathered and singing around ODM Leader, Mr. Raila Odinga and his nemesis, Dr William Ruto. It is turning out to be a make or break concert, with no price too big to pay.
A special sitting of Parliament was convened on Wednesday, not to discuss a national disaster, but to pave the way for political convenience for the Uhuru-Raila political axis ahead of this year's general elections. In the process, MPs are unable to agree to disagree, as is expected of Parliament. Wild shouting, banging of tables, throwing of objects and punch-ups are now the way of Parliament.
But are such chaos only heralding what lies ahead this year? As Kenyans embark on this electoral year, they need to be reminded that they are concurrently riding a tiger and fondling its erogenous zones.
The excited assemblies, around Raila and President Kenyatta on the one hand, and those around Ruto, on the other converse, are a sinister postcard from the future.
If not well managed, these two political camps could roll the country back to 2008. It does not matter that President Kenyatta and Raila are now friends. Nor does it count that they are teammates. A new war front has been enjoined, against the DP. It is as vile as the warfronts before. It threatens to be just as wild, if not worse, with the fires stoked and fanned round the clock, in social media.
The chaos in Parliament in the ending week is a reminder of how delicate peace is. Beyond that, they remind us that there can be no peace without the closing of all chapters of hostility.
President Kenyatta and Raila have made peace, yes. But they have also jointly engaged the country in fresh hostility between their camp and Ruto's. They have only sealed up the hole in the bucket and opened up another one. In the end, they have done nothing. The country is right back where it was before the March 9, 2018 handshake, with the exception that the partnerships and hostile parties are different.
To paraphrase William Butler Yeats' famous poem, the Uhuru-Raila Azimio la Umoja and the Ruto United Democratic Alliance (UDA), are Kenya's "two rough beasts, their hour come round at last, slouching towards Bethlehem to be born."
Gathered around Ruto and Raila are the excited voices of the overconfident; spoiling for war. Each side believes that it is going to form the next government, this year, by hook or crook. To the two sides, the election is an end in itself, with nothing beyond.
The early campaign pace has pulsated with impatient intolerance. The political space has suffered from constipation of thoughts and vision. It has been rich in torrid discharge of wildness and verbal diarrhoea.
Parliament is the one institution that countries count on for sober intervention in seasons of uncertainty. Unfortunately for Kenya, Martin Shikuku's words in 1975 seem to be coming to pass.
The political top brass is killing parliamentary democracy. It is a truly dark day when MPs gather in the House not to listen to reason, but as zombified voting machines – regardless of which side they vote for.
More tragic is when they cannot play their zombie roles without sinking into physical violence. The overly confident voices in the two camps should worry us. They do not mean well for the country.
-The writer is a strategic communication advisor