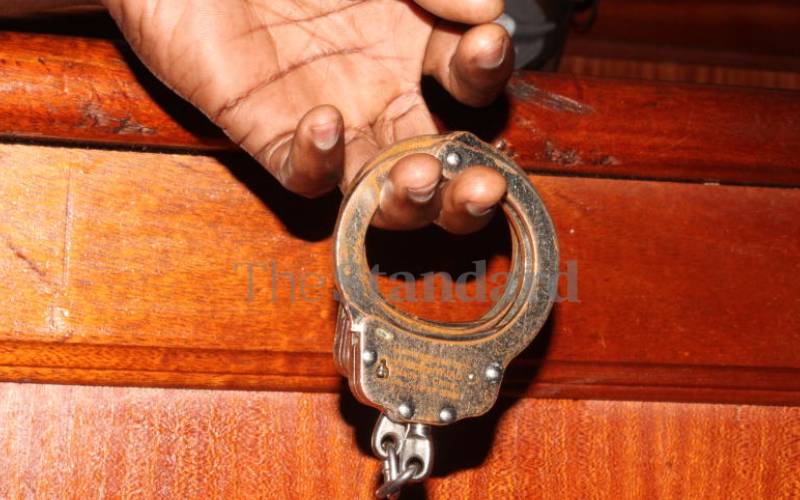 Police in Gilgil are holding a woman suspected to have strangled her drunk husband as their three-year-old son watched.
Investigating officers said they first treated the incident at Gema estate as a normal death before the minor spoke.
The middle-aged woman was taken to the police station.
Samson Waiganjo, a neighbour, told police they were attracted to the home by the woman's screams. She reportedly said her husband had collapsed and died moments after arriving from a drinking spree.
Mr Waiganjo said they called police only for the minor to say his mother strangled his father as he watched.
"The minor innocently narrated how the mother held his father by the neck for some minutes before dragging him to the bed where he was found lying," he said.
Gilgil OCPD John Ondit said the woman would be charged with murder once they are done investigating. "The woman had reported that the husband collapsed and died, but we have since established that she killed him through strangulation."
Meanwhile, a 42-year-old man died after a quarry he was working in collapsed in Mai Mahiu.
Three other sand harvesters escaped unhurt in the midday incident reported in Karima village off the Naivasha-Mai Mahiu road.
Julius Wahome, a resident of the area, said some youth were harvesting sand in the quarry when it caved in and trapped four of them.
"Three were rescued but the fourth was not lucky. His body was recovered an hour later through the help of members of the public," said Wahome.
Naivasha OCPD Samuel Waweru said the body had been collected and an inquest file opened.