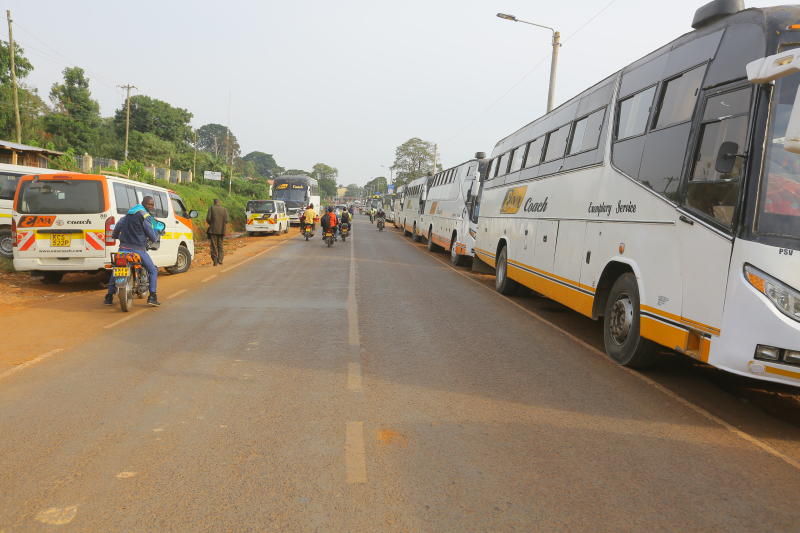 When he announced the additional measures aimed at curbing the spread of Covid-19 pandemic, President Uhuru Kenyatta acknowledged that businesses will take a major hit.
"Whereas the foregoing measures will have adverse effects on the economy and constrain our usual way of life, the measures are temporary and necessary to contain the spread of the disease and therefore stop further loss of lives," said President Kenyatta in his 15th presidential address on coronavirus pandemic on Friday.
A number of business activities will be adversely affected by the partial lockdown of five counties of Nairobi, Nakuru, Kiambu, Machakos and Kajiado.
Together, these counties control about 38 per cent of Kenya's gross domestic product (GDP) valued at Sh2.8 trillion, according to data by the Kenya National Bureau of Statistics (KNBS).
Affected counties
With business hours being reduced after the Head of State revised the dusk-to-dawn curfew from 10pm to 4am to 8pm to 4am in the affected counties, there will be fewer transactions, which will translate into less income by both employers and employees.
Some of the businesses that will be directly hit include restaurants and hotels, which have been banned from selling alcohol.
Bar operators in Machakos County yesterday said they feared the new directives will kill their businesses.
Addressing the press in Machakos town yesterday, local chair of Chamber of Commerce and Industry, Joseph Kithu, said operators already had huge stocks.
"Most of us who have rented buildings for the businesses had already paid for a year's rent, which is non-refundable, money that will go to waste," said Kithu.
Similarly, the traders said they had already paid for the trade licences to the county government, which was also non-refundable.
Kithu, who is also the chair of Bar and Hotel Operators Association in the county, said the government should review the decision.
"Since Covid-19 struck early last year, bar owners have been on the receiving end, completely rendering most of them unoperational owing to the strict measures," he said.
Kithu said as much as they supported the war against the pandemic, the government should exercise equal measure on the restriction to all business ventures.
With bars closed and restaurants being instructed not to sell alcohol, East African Breweries Limited (EABL), the region's largest brewer, might suffer huge losses.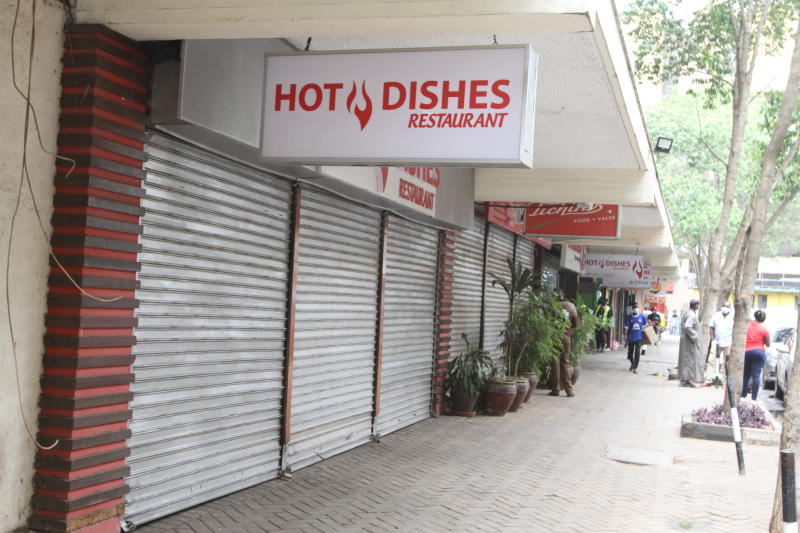 Feeling pinch
The group's profit of Sh3.8 billion in the first half of the financial year ending December 2020 was a significant improvement compared to the Sh200 million loss recorded in the second half of financial year 2020 (January to June 2020) when the country had banned sale of alcohol.
Moreover, restaurants and hotels can only sell take-away food, measures that will deny them earnings.
Obadoh Obadoh, the proprietor of CafeDeli eateries, is one of the many affected businessmen. He runs a chain of eateries in Nairobi and is feeling the pinch.
He just finished renovating one of his branches along Moi Avenue in Nairobi's CBD. He says he spent millions of shillings in his new project barely four days ago and now feels stuck.
"It's a painful move for us eateries operators. I just finished renovating this new branch. I haven't sorted the suppliers, workers and now the banks will soon be on my case.
"I had to send home my staff and it was very painful. I could see it in their eyes, but my hands are equally tied," said Obadoh.
Obadoh, like others, is appealing to the government to ease some of the restrictions, as not all eateries are designed for take-aways.
"We can self-regulate ourselves in line with the Ministry of Health guidelines, let the government ease some of the restrictions and allow walk in customers," he said.
With the partial lockdown, hotels outside of the five counties – the disease zone – which had received Easter bookings from residents in the restricted counties, were forced to cancel the bookings.
"I had people going to Mombasa over the Easter season. I had bookings which were confirmed, and those ones now we are cancelling and I have to refund," said Humphrey Meme, Tour Director at Kimken Safaris.
Public transport is another sector that will take a hit from the latest measures.
Inter-county public service vehicles into and out of these five counties will not venture into the other 42 counties. This might mean a reduction in income.
Moreover, public transporters have been asked to maintain a 60 per cent carrying capacity. This will not only translate into reduced earnings, it also means high transport costs for passengers.
The Standard Gauge Railway moves close to 120,000 passengers every month between Mombasa and Nairobi, with other transport operators, including tour operators, feeding off them.
It will stop operating indefinitely from tomorrow.
Domestic flights have also been cancelled, adding to the financial woes of the national carrier, Kenya Airways, which made a record loss of Sh36 billion in the year ending December 2020.
Event organisers and entertainers will also have it rough after the president capped attendees at weddings at 30 persons.
Funerals will be attended by a maximum of 50 people. Sporting activities in stadiums and other recreational facilities, including private clubs, have also been suspended.
Major hit
Although primary schools are on recess, the government has nonetheless prohibited all physical learning, including in universities and colleges.
This will mean a lot of losses to those who have invested in institutions of higher learning and those running hostels.
Professionals such as lawyers will also take a major hit after Uhuru instructed all government officials to work from home.
This will make it difficult for the processing of legal documents such as title deeds, business registration certificates, marriage certificates, etc.
Dr Samuel Nyandemo, an economics lecturer at the University of Nairobi, said the little progress that the economy had started to make will be washed away.
[Additional reporting by Elvis Ogina and Victor Nzuma]