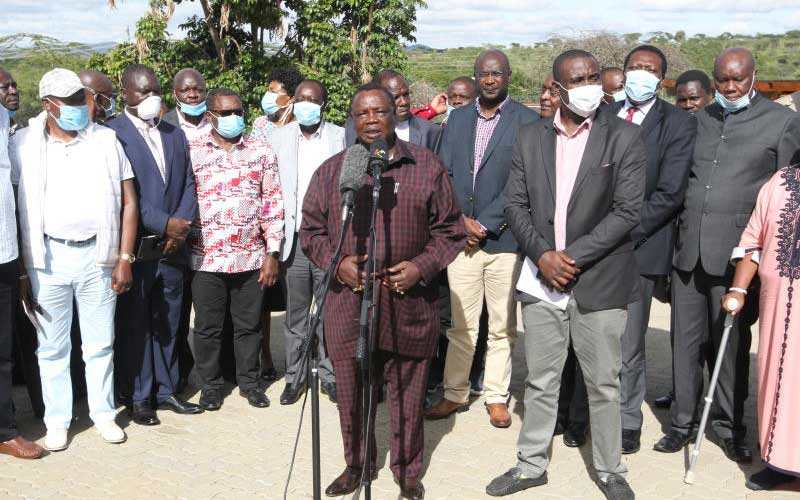 Central Organization of Trade Unions (Cotu) Secretary General Francis Atwoli has dismissed reports that a political gathering at his home flouted Covid-19 safety regulations. Atwoli said his guests – including Governors, MPs, Devolution Cabinet Secretary Eugene Wamalwa and Senate Speaker Ken Lusaka – were tested for coronavirus before they attended the meeting. He said that two medics were also deployed at his Kajiado home during the Friday meeting to ensure all the health protocols to curb the spread of the virus were adhered to. "I am not a stupid man to invite people without considering the safety guidelines by the Ministry of Health. People were tested before they came in," said Atwoli.
SEE ALSO: Children are safer at home, but State must hasten plans to streamline online learning
"I had two medics that were ensuring all the safety regulations were adhered," he added. He said some individuals were trying to push a narrative that the leaders acted in total contravention of health guidelines for political expediency, holding that the leaders who he did not name, are against the political unity of Western leaders. "It is pure misrepresentation of facts to say that the meeting flouted the regulations because the people involved are in authority or something. All the set guidelines were adhered to," he told
Standard Digital
. "It was a meeting that observed all the set guidelines not the way people want to make it appear. It is the same way people have been allowed to go to supermarkets as long as they adhere to the requirements." Atwoli's response came in the backdrop of an uproar by Kenyans that the enforcement of the rules was selective.
SEE ALSO: Kenya records highest daily Covid-19 death toll
Kenyans had taken to social media to protest the alleged impunity by leaders as it appeared that the rules set by the government to contain the respiratory disease were only applicable to the common mwananchi. Law Society of Kenya President Nelson Havi said the political leaders' actions reek of impunity and hypocrisy. "It is time we called out Kenyan political leaders for the fraud they are. They declare a curfew for Covid-19 and demand we obey, but they don't," said Havi. "They restrict movement but they are moving freely. They say no succession politics but are politicking. What more lies can they tell us?" Elgeyo Marakwet Senator Kipchumba Murkomen also took to Twitter to castigate the leaders, saying there was no need to continue closing churches when political leaders could gather freely.
SEE ALSO: State was mistaken in cancelling 2020 academic year
"If you can open the bars, then we can open churches. Please tuwache ukora (let's stop this conmanship)," he posted. But Atwoli accused Murkomen of trying to politicise the matter since he is allegedly against the coming together of western leaders. "They should stop complaining about the ongoing politics, some of the people complaining are not helping the country in the fight against the pandemic and corruption," Atwoli charged. He claimed that it is because of rampant corruption and other vices that God is punishing the country. "It is rampant corruption that has put this country into a lot of problems, including the corona calamity. God is punishing us because of a lot of indulgent in corrupt practices and disobeying those in authority. This is a curse from God," he said.