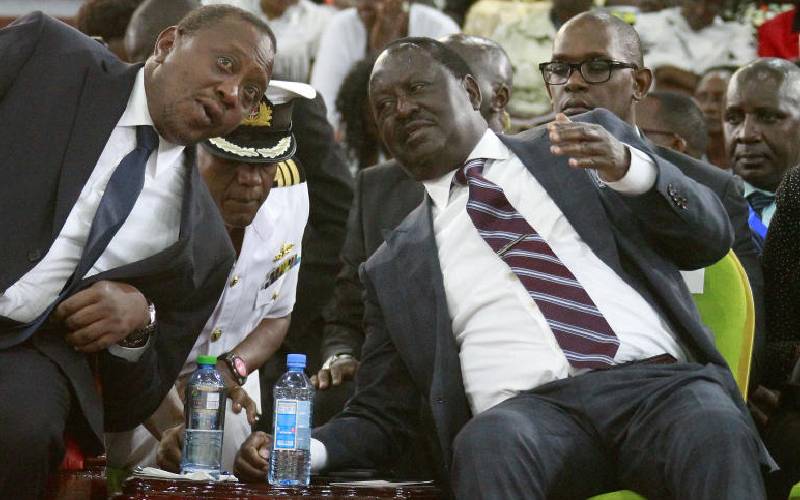 Politics
But yesterday, while speaking on Milele FM, Raila dismissed talk of a looming 'nusu mkate' government as misguided.
Opposition leader Raila Odinga says he is not negotiating for a coalition government with President Uhuru Kenyatta, but hinted at sweeping political changes before the end of the year. Mr Odinga said neither the president's Jubilee Party nor ODM had approached the other over the possibility of forming a coalition before the next general election. "I want to make it clear that Jubilee has not asked us to join government as a coalition partner. We also have never discussed such a thing with them. What brings us together is the handshake and the Building Bridges Initiative (BBI)," said Raila.
No going back
SEE ALSO: President Uhuru erred by opening places of worship- Atheists
The former premier, however, told Kenyans to prepare for a referendum that could usher in radical political changes in the next six months. "It is true a referendum is coming before the end of the year. There is no going back. The BBI task force will present their findings once the Covid-19 crisis ends," Raila said without elaborating. His statement comes amid speculation that he was in talks with President Kenyatta to have members of his party incorporated in a Government of National Unity to consolidate their unity after their March 9, 2018 handshake. There has been talk in political corridors that the president's decision to sign a coalition deal with Kanu could be an indication of a wider scheme to form a national government as a launching pad for the Uhuru succession battle. Kalonzo Musyoka's Wiper party is also in a 'co-operation agreement' with Jubilee. But yesterday, while speaking on Milele FM, Raila dismissed talk of a looming 'nusu mkate' government as misguided.
SEE ALSO: Academic calendar out today
The ODM leader, however, said his friendship with Uhuru would be there for the long haul. He declined to state whether he would contest the presidency in 2022. "I have not said I am going to contest in 2022. What the president and I are doing now is to unite the country and bring necessary changes through the BBI," he said. "We have two years to go. Right now, we are busy with economic recovery and the BBI." In a dig at Deputy President William Ruto, Raila criticised politicians who are already campaigning for big positions in 2022. "It is not campaign time, yet we hear some people claiming they had political pacts with President Kenyatta that they will rule Kenya for 10 years after him," he said.
SEE ALSO: With restrictions lifted, Kenyans must step up personal measures
Asked if his handshake with the president had killed the Opposition, hence his decision to slow down in criticising the government's excesses, Raila said contrary to the belief held by some Kenyans, he had not joined the government and was only co-operating with Uhuru on national matters. "I have not joined government. What has happened is that instead of seeking answers from the government from outside like before, I now do it directly. When something is bad, I pick a phone and call the president. ODM leaders are also free to speak about issues inside and outside Parliament," he said. Raila further announced that 'reggae' (the countrywide BBI rallies that were cancelled at the onset of Covid-19) was set to resume soon to sensitise Kenyans on the looming changes. "Some people said reggae stopped. This is not true. Reggae did not stop. No one can stop reggae. The players just took a break to allow us to deal with the coronavirus. We are on half time. We will resume in full swing," said Raila. But he added that the rallies would only resume after the country achieves economic recovery following the ravages of Covid-19, floods and locusts. Raila also dismissed claims by some Jubilee leaders that his handshake with Uhuru was meant to frustrate Ruto and block him (the DP) from becoming the country's fifth president. He said neither him nor the president had any ill-will against the deputy president. "I have no personal problem with Ruto. Why should I be against him? Why?" Raila asked. He said some leaders allied to Ruto have been fighting to derail the handshake for fear of the unknown. "The handshake was not meant to sideline anyone but to help reconcile Kenya given that we come from a chaotic past," said Raila. "Enmity cannot build a country. There are people who have been using derogatory statements to derail peace. They have been using insults like waganga and other inappropriate references." Raila further described as "porojo' assertions by Ruto's allies in the Tangatanga faction of Jubilee that he and Uhuru were using 'dynasties' to prevent other communities from ruling the country. "There is nothing like dynasties. Uhuru, Gideon Moi (Baringo Senator) and myself came from humble backgrounds and were never given leadership on silver platters," he said. "Jomo Kenyatta went through hardship and worked in a quarry. Daniel Moi grew up in abject poverty, same to my father Jaramogi Oginga Odinga who worked in a school farm in Maseno to pay fees."
Corrupt individuals
Raila also dismissed reports that he had been appointed by the president to chair the country's economic recovery programme following the adverse effects brought on by Covid-19. "There is nothing like that. The president has never communicated to me about this. This is fake news. People have been calling to congratulate me over a non-existent appointment," he said. On the fight against graft, Raila praised the president for being at the frontline, but faulted politicians and lawyers whom he accused of subverting justice against corrupt individuals. "Some politicians have become the biggest stumbling blocks in the graft war. You will hear them claiming the fight against graft is politicised whenever one of them or their leader is linked to graft. These people are known," said Raila. "These are the people who have been attacking the DCI and the ODPP."