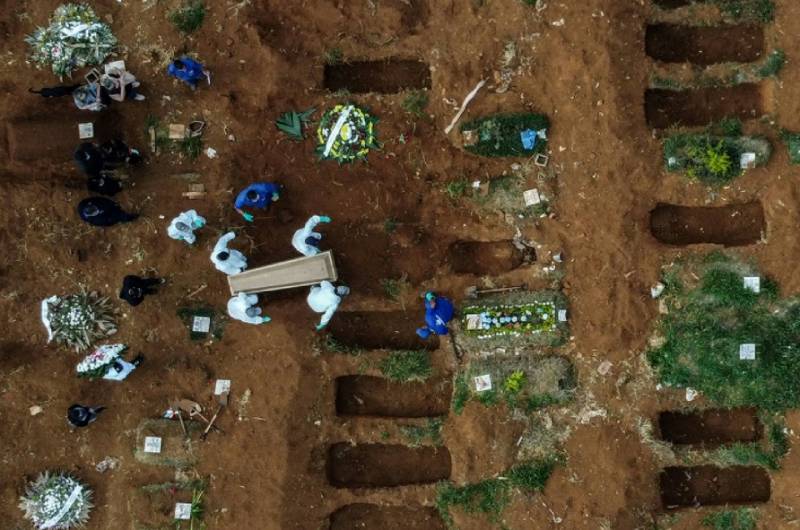 Health & Science
The new coronavirus continues its inexorable advance in Latin America, which in turn has become the "epicenter" of the pandemic.
The new coronavirus continues its inexorable advance in Latin America, which in turn has become the "epicenter" of the pandemic, in particular in Brazil, the second country with the most cases in the world behind the United States. For the third time in four days, the Brazilian Ministry of Health announced Friday a daily death toll of over 1,000 deaths. Brazil has registered a total of 21,048 deaths, which places it in sixth position worldwide. With a total of 330,890 contaminations including 20,803 in the last 24 hours, it has now replaced Russia (326,488 cases) in 2nd position in the assessment of the number of cases identified. South America is "a new epicenter" of the new coronavirus pandemic, the World Health Organization (WHO) said on Friday.
SEE ALSO: We must borrow the wisdom of our forefathers to win current battles
"We are seeing the number of cases increasing in many South American countries (...) but clearly the most affected at this point is Brazil," said Michael Ryan, WHO emergency manager. Peru, despite being the first Latin American country to have imposed restrictions, is also struggling to stem the spread of the virus, which has continued to spread, notably in food markets and banks that have remained open, thanks to a system of fragile health, an informal economy and endemic poverty. Peruvian President Martin Vizcarra extended the confinement in force since March 16 and "compulsory social isolation" to Friday, June 30. The country deplores more than 3,100 deaths and more than 110,000 cases of contamination since March 6. With figures probably underestimated, the pandemic officially affected more than 5.1 million people worldwide. It has made at least 335,538 dead since its appearance in December in China, according to an assessment established by AFP from official sources Friday at 19H00 GMT.
SEE ALSO: Why Uhuru is cracking whip amid coronavirus
Places of worship
The country with the most cases, the United States (1.6 million) is also by far the most bereaved in the world with 95,921 deaths, including 1,260 in the last 24 hours. To honor the memory of the victims, the flags were flown at half-mast until Sunday. Despite these high balance sheets, the 50 American states have started a partial and progressive deconfinement, retaining certain restrictions on rallies. Bars have reopened in Texas, subject to limiting themselves to a quarter of their seating capacity. Donald Trump, very popular among evangelical Christians, strongly advocated the immediate reopening of places of worship in the country.
SEE ALSO: 770 cases in a week push toll to 1,962
"I consider places of worship - such as churches, synagogues and mosques - to be essential places providing essential services," the US president said on Friday saying he would like the country to "normalize" quickly. Especially since some emblematic American companies are suffering hard: more than a century old and known worldwide, the car rental company Hertz placed its activities on Friday in the United States and Canada, under the American bankruptcy regime. Europe, where the pandemic has killed more than 171,000 people, continues its slow return to normal, by taking more precautions, for fear of a resurgence. In France, the fifth country in the world in number of dead (28,289), religious ceremonies can resume on Saturday, provided that the faithful respect barrier gestures and physical distance, wear a mask and disinfect their hands. At the entrance, the flow should be regulated so as not to exceed a maximum attendance gauge.
SEE ALSO: Alarm as town becomes new pandemic hotspot
In Finland, the easing allows cross-border Estonian workers, stranded for two months, to return home. Iceland will reopen discos, bars and gyms on Monday and in Italy, the famous Florence Duomo, the Cathedral of Santa Maria del Fiore, will reopen to the public on Saturday. Cyprus, very dependent on tourism, will reopen its airports to commercial flights from around twenty countries from June 9.
British quarantine
Conversely, travelers arriving from abroad in the United Kingdom will be quarantined for fourteen days. Rare exceptions are planned but not for those coming from France, as London and Paris had however recently suggested.