Editorial
Kenya has a projected gross domestic product (GDP) of Sh9.9 trillion while Ethiopia's stands at Sh9.1 trillion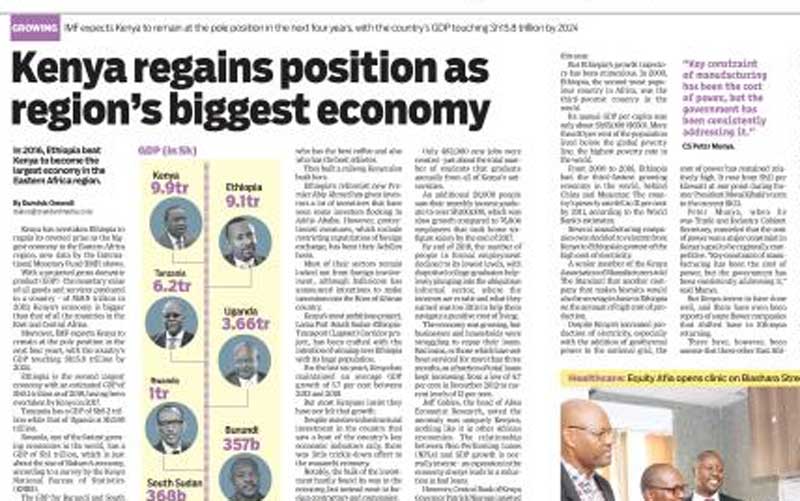 There is a good reason for Kenyans to celebrate. Our country has just overtaken Ethiopia to become the region's biggest economy again, according to the International Monetary Fund (IMF). Kenya has a projected gross domestic product (GDP) of Sh9.9 trillion while Ethiopia's stands at Sh9.1 trillion. GDP is the monetary value of all goods and services produced in a country. Tanzania is third with a GDP of Sh6.2 trillion followed by Uganda at Sh3.66 trillion while Rwanda has a GDP of Sh1 trillion. This clearly puts Kenya head and shoulders above her neighbours.
SEE ALSO: Portland cement wants staff to go for early retirement
And that is not all. IMF projects that the country will maintain the lead for the next four years and its GDP will hit Sh15.8 trillion by 2024. To beat Ethiopia, which has been at the helm since it overtook Kenya to become the largest economy in the region in 2016, can only mean that our government has revved up the economic engine and/or that Ethiopia's engine is losing steam. Which could be true as Addis Ababa has been having its share of political problems as Kenya is still 'basking in the handshake'. But be that as it may, Kenyans need to be told why such an outstanding economic performance is not reflected on the ground. It would be hard to convince the populace that we are the region's economic powerhouse while the economy is shedding—not creating—more jobs. Every other day, companies are showing hundreds of workers the door due to dwindling fortunes. In addition, for some time now Kenyans have been complaining about the high cost of living, including the prohibitive prices of foodstuffs, and there is still no light at the end of the tunnel.
SEE ALSO: Three-quarters of MSMEs likely to face closure
Kenyans would also want to know why amid an improving economy, farmers have been earning peanuts for their produce, including milk. It is possible that the billions of shillings the government has borrowed in the recent past has helped to shore up the GDP. Unfortunately, most of the borrowed cash has been pumped into infrastructural projects; investments that will take years to recoup. Such investments too do not translate into money in the pockets of ordinary citizens, and the people cannot therefore reap the benefits of our growing economy immediately. This should be a cause for concern for the government. While going by the IMF data that something good is happening to our economy—criticism over piling national debt not withstanding—the government should ask itself why the public doesn't seem to benefit much even as the economy grows. An improving GDP in an economy that is bleeding jobs should worry all and sundry.
SEE ALSO: Kenya is losing her diplomatic grip in the East Africa region and should act fast