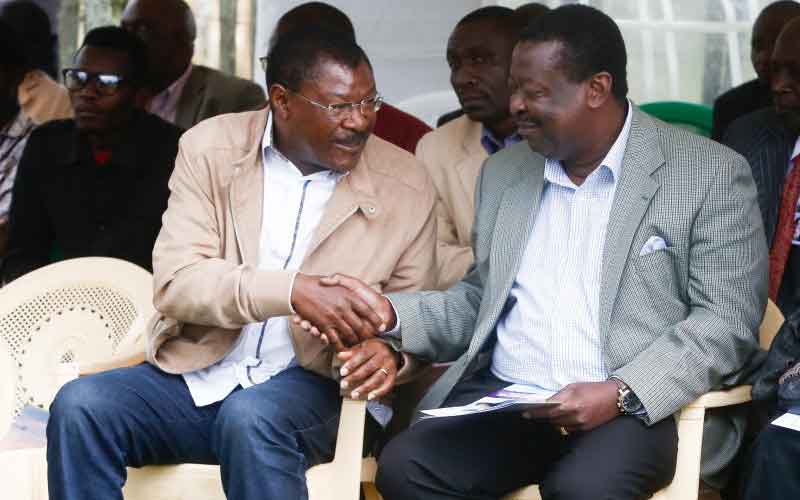 Western
Mixed feelings: Political pundits question whether bond will last, dare the two to dissolve parties
ANC party leader Musalia Mudavadi and Ford Kenya's Moses Wetang'ula's recent show of unity in public has set tongues wagging. During the BBI convention in Kakamega two weeks ago, the two drove into the stadium in the same car. Beforehand, they had planned to skip the rally but made a last minute change of mind. Ostensibly, their joint entry into Bukhungu stadium took many by surprise. However, questions abound on whether the bond between them could could just be a marriage of convenience or a sign of bigger things to come. Past attempts to bring the two Western political heavyweights together have failed, with none of them willing to fold the political outfits to form one formidable party.
SEE ALSO: Msajili wa vyama asema Wetangula angali kinara wa Ford Kenya
Wetang'ula, who was the first to speak at the Bukhungu rally, said they would henceforth work together. The Ford-Kenya leader said they would not allow anybody to sow seeds of discord among the people of Western. "No man can allow a visitor to seduce his wife. We can never allow that to happen and I am saying this on behalf of my brother Mudavadi," said Wetang'ula amid cheers from the crowd. Mudavadi said he had turned up at Bukhungu to put to rest rumours and attacks directed at him. Outsiders will not be allowed to invade Western and purport to set the political agenda, he warned. At the Bukhungu meeting, Central Organisation of Trade Unions (Cotu) Secretary General Francis Atwoli urged the two to collapse their parties in case they are serious about working together. "They must break their parties and have one formidable political outfit if they are serious," Atwoli said. "We want you to take a walking stick and lead the community because you are in that seat," he told Mudavadi.
SEE ALSO: Wamunyinyi has Ford Kenya Party DNA, says Dr Simiyu
But Mudavadi accused Atwoli of using the Kakamega BBI forum to attack him. "How do you turn such a meeting to be about Mudavadi? Let us concentrate on issues," he said. "At least for us, we have started a process of ANC and Ford Kenya working together. Why was he not calling for the merger of Jubilee and ODM. His comments were meant to drive a certain narrative but we will not be bowed," said Mudavadi. Former Khwisero MP Julius Arunga believes Mudavadi and Wetang'ula have opted to work together for the good of the region and need not dissolve their parties to be seen to be working together. "Partnering does not mean they merge parties. We can work together in a coalition of some sorts," he said, adding: "All we want is for our leaders to carry on with the tempo set at Bukhungu, let them address the needs of the people of Western." Mr Khamisi Butichi, who unsuccessfully vied for the Kibra parliamentary seat on a Ford Kenya ticket, said they will help the two leaders galvanise support in the region ahead of 2022. Mr Butichi warned that anyone seeking the Luhya community's support should first consult the two leaders.
SEE ALSO: Join us in taking Musalia Mudavadi to State House or find us there
"We don't need anyone's advice on disbanding our parties. Those interested in working with us should com through our leaders because we are determined to be in government by right and not by privilege or connections," he said. Lugari MP Ayub Savula, the ANC deputy party leader, welcomed the resolve by Mudavadi and Wetang'ula to pull together. "It is only through unity of purpose that we will guarantee our people a place in the next government," he said. The elusive Luhya unity was a key talking point at Bukhungu, with Kanu Secretary General Nick Salat challenging local leaders to unite and enhance their chances of forming the next government. He questioned why it has been hard for the locals to take advantage of their numerical strength to clinch power. Meanwhile Kakamega Senator Boni Khalwale has dismissed the unity demonstrated by Mudavadi and Wetang'ula. He claimed the two leaders are political cowards who ditched a parallel rally that was to take place in Mumias on the day of the Kakamega BBI rally.
SEE ALSO: Ford Kenya wrangles ignite ugly spat between ODM and ANC
"We were in constant communication with Mudavadi aids over our meeting in Mumias only for him and Wetang'ula to show up at Bukhungu. By skipping Mumias meeting, they abandoned the people and proved their cowardice," argued Khalwale. Martin Oloo, a political analyst, said the two will not necessarily get a firm grip on the region's politics by working together. "To be able to take hold of Western, Mudavadi and Wetang'ula would need to do more than just saying they are united, you don't have to shout before Raila Odinga that you are in control of your region to be noticed and felt," Mr Oloo said. He warned the two against using the Bukhungu BBI meeting as a yard stick to determine their popularity in Western.