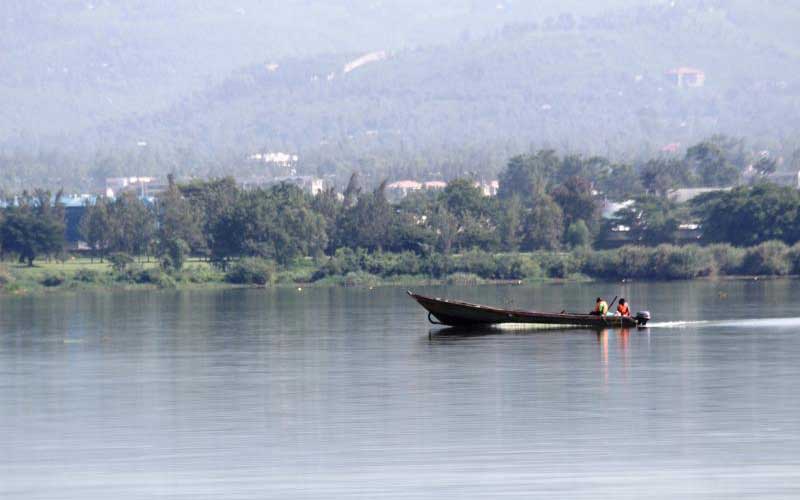 Schools opened for the new term three weeks ago, but 2,000 students at Victoria Primary School near Lake Victoria might soon have no place to learn. The school's land measuring 3.6 hectares has been taken over by powerful individuals. Edward Omalla, the school's head teacher, says the problem began in 2012 when part of the land was annexed, subdivided and given to some individuals leading to anxiety and uncertainty among pupils and their teachers. "We are living in fear and do not know what to expect. Our school's land is registered under numbers 644 and 647. But in 2012, some school management committee members colluded with land grabbers and sold 3.6 hectares. To date, this land has not reverted to us. It is a case that has been fought in court for eight years now," said Omalla.
SEE ALSO: Court ruling puts fate of Mau water tower on the balance
Interestingly, the school is only a stone-throw away from State House, Kisumu, one of the most protected areas in the lakeside city.
Famous beach
The school's case is just one among many tales of insatiable appetite for land around Lake Victoria that has seen rich and powerful individuals hive off chunks of land around the lake to erect palatial homes and hotels. Investigations by The Standard indicate that public land whose value is estimated at Sh1.654 billion has been grabbed. The most affected is Block 7 on the shores of the lake that stretches from Kisumu International Airport, through Lwang'ni beach, Kenya Railways, State House, Impala Animal Sanctuary to the famous Dunga Beach, which is renowned for its fish and boat rides.
SEE ALSO: Vasco Da Gama pillar shielded from sea waves
Here, 16 pieces of land have been hived off the original Block 7. The Ethics and Anti-Corruption Commission (EACC) has been fighting to recover some of the grabbed land. This has seen some of it returned to the public. This includes Block 7/509 that was owned by a senior politician in the region. In its ruling delivered on July 26, last year, High Court judge Justice Stephen Kibunja ruled that the lease given to the politician by the then Commissioner of Lands Sammy Mwaita was not protected under Article 40 of the Constitution. The case was filed by EACC. The court ruled that the piece of land worth Sh35 million was part of reserve property belonging to the Kenya Railways Corporation and was not available for allocation for private purposes. The senior politician was attempting to defraud Kenya Railways of the half-acre of land. "No diligent public officer at the lands registry and survey department would have processed the allocation and subdivision of the suit land, and the registration of the lease thereof without ensuring and satisfying themselves that the relevant approval, consent and documents had been provided," Kibunja ruled.
SEE ALSO: Our policies must focus on our animals
The court found that the subdivision, issuance and registration of the lease over the land was fraudulent, irregular, illegal and unprocedural. Also recovered was Block 7/548 and Block 7/454 worth Sh140 million and Block 7/541. George Oira, EACC regional manager, said the commission has been able to recover a public park within the city centre. "Taifa Park, registered as Block 7/240 and called Kisumu Public Park and gardens has been recovered and will soon be open to the public. It is worth Sh370 million and was illegally acquired by five individuals," said Mr Oira. He cited instances where protected property has been grabbed, including one situated near Kisumu Law Courts. "We will next month present 14 cases in court. Eleven of these are related to land. We are also investigating another 70, which are also mainly dealing with irregular land acquisition," said Oira. The land-grabbing craze in Kisumu has attracted the attention of President Uhuru Kenyatta who, five months ago, ordered government agencies to secure land that originally belonged to Kenya Railways. As a result, a number of buildings were brought down, one of them belonging to a former member of parliament. The illegal acquisition of public land near the lake and growing human settlement has given rise to another environmental hazard. Africa's largest fresh water body is no longer fresh. The once clean lake is now choking with pollution from industrial and agricultural waste.
Dunga beach
"The lake is in a very sorry state," said Moris Okulo, who has worked as a guide at the lake's Dunga Beach for the past 20 years. He lamented that some people have built illegal structures including latrines on the lake's shores and that relevant authorities have turned a blind eye to this. The Kenya National Cleaner Production (KNCPC) says that 88 industries around the lake collectively dump seven tonnes of industrial waste into its waters every year. According to an environmental and social impact report, Kisumu, Bondo, Homa Bay, and Migori have malfunctioning sewage treatment plants or none at all. The raw sewage is often discharged into the lake. "The designers of the city did not consider the new settlements that are still coming up in Kisumu. As a result, the sewerage system that was put in place cannot cope with the current pressure," said Antony Saisi, the county director of environment. At Dunga Beach, public toilets serving thousands of visitors are suspended over the lake. Vehicles are washed right inside the water. Numerous food kiosks erected on platforms extending into the lake have no solid waste management services. They dispose all the waste in the lake. Fishermen at the beach also admitted that they use the lake for a toilet. "We carry food when we go fishing, and when it comes to answering calls of nature, we have no choice but relieve ourselves in the lake," said Collins Rabala.
The writer is a Bertha Fellow.