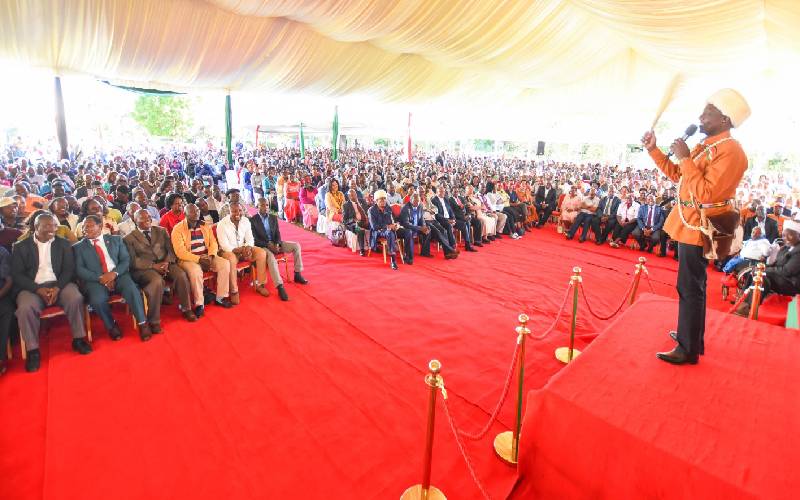 Rift Valley
DP says winning election is a bonus, his agenda is to transform the country
Deputy President William Ruto says he will rather forgo power than see Kenyans fight over him or any other politician, adding that if it means people have to fight for him to get power, then he better forgo that power. In Twitter postings about his day on Thursday when he hosted local leaders in Sugoi, Uasin Gishu County, Ruto said it was the core responsibility of every leader to enhance and maintain peace. He further tweeted it is the same foundation that the ruling party Jubilee was formed and that nothing will distract them from giving Kenyans peace. "The Jubilee leadership remains committed to its foundation principles of unity and transformation. Nothing will distract us from this course," he said.
SEE ALSO: Rift unlikely to give troubled Ruto a shoulder to lean on
Ruto warned Kenyans against fighting each other over politicians, saying no politician was too important for Kenyans to fight for. "Mimi sitaki Kenya igombane kwa sababu yangu, hapana (I do not want Kenyans to fight because of me)," Ruto declared. The Deputy President said the main reason why he was in politics was to move the country forward and finish tribalism and not to win election or power. He said the reason why they came together with President Uhuru Kenyatta was not to win the election but to unite Kenyans and finish ethnic animosity among Kenyan communities. "Winning election in 2013 and 2017 were just bonuses, the main agenda was to unite the country and to transform it," he said.