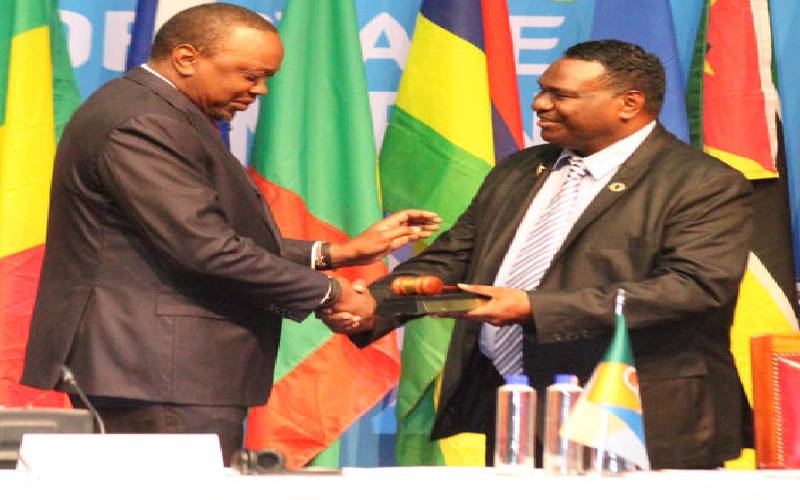 Kenya has once again pitched for its candidature for a non-permanent seat at the UN Security Council at a high-level international conference in Nairobi yesterday. President Uhuru Kenyatta, who took over from Papua New Guinea Prime Minister James Marape as chairman of African, Caribbean and Pacific Group of States (ACP), rallied member states to support the country's bid against Djibouti as he gave a status report on the elaborate campaign mounted. "We have rolled out an elaborate manifesto of what we intend to bring to the United Nations Security Council (UNSC)," the president informed the participants during his opening remarks at the two-day ninth ACP Summit of heads of state and government in Nairobi, the first to be held in the East Africa region. Uhuru added: "I am sure your excellencies are well briefed on the matter, and we hope that each of you will respond affirmatively to our request for support."
SEE ALSO: Mt Kenya bigwigs to support Kimunya after private 'lunch'
Last month, Kenya through Foreign Affairs Cabinet Secretary Monica Juma officially launched the campaign to woo the 198 permanent representatives to the UN in New York for the seat. This was the second successful launch since the Addis Ababa, Ethiopia, campaign in August that saw Kenya triumph over Djibouti for the Eastern regional bloc to replace South Africa whose term ended this month. Kenya is seeking the 2021/22 term and has a ten-point pledge that includes promoting stronger adherence to global rules and shared responsibility. During the unveiling of the official campaign logo in Addis Ababa, Dr Juma said Kenya would push for better support from the UN to aid regional efforts to combat global challenges such as terrorism. She said that while Kenya and other countries have willingly supported such programmes, Nairobi will be seeking a stronger cooperation between the UN and regional bodies.
SEE ALSO: The clergy must guide the faithful to evade virus in places of worship
She said Kenya will use the position at the Security Council and the AU Peace and Security Council to build appropriate linkages for collaboration and harmonised action. In August, Uhuru sought Caribbean support when he visited Jamaica and Barbados.