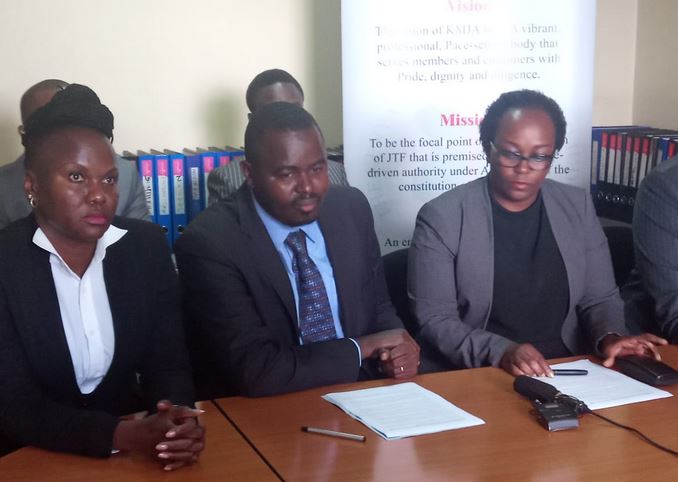 The Kenya Magistrates and Judges Association (KMJA) Union has urged President Uhuru Kenyatta to appoint 41 nominated Judicial Service Commission (JSC) members to enable the completion of a 372,928 backlog cases. Through its Secretary-General Derrick Kuto, the Union while addressing the press said that the delay in appointment of the judges is affecting 'Wanjiku' who is seeking justice in our courts. According to them, about 400,000 cases are being filed per year against a diminishing number of judges and magistrates. The backlog as at January 7, 2019 stands at 372,928 cases being handled by 644 judges and magistrates combined.
SEE ALSO: Battle of wits and tactics as Uhuru and Ruto eye 2022
"By way of example countries like England and Wales with a population of 58 million has 3,210 judges and about 22,000 lay magistrates which explains why the case completion period is shorter," Added Kuto. He added that the shortage of judicial officers has occasioned to slow determination of cases. The Union said that the delay in appointment of judges is a violation of the constitution and the rule of law and waters down the Institutional Independence of the Judiciary. "Article 1 of the constitution vests sovereign power in the people of Kenya and this power is donated to the three arms of government, this power should only be exercised by the will of the people," said Kuto. The Kenya Magistrates and Judges Association Union is now urging President Uhuru Kenyatta to appoint the Judges as nominated by JSC.
SEE ALSO: Uhuru allies plot final blow against DP's Jubilee men
President Uhuru Kenyatta had earlier defended his decision not to gazette 41 judges. The President argued that it would be irresponsible on his part to appoint the judges who enjoy the security of tenure given the integrity concerns and reveals he will ask relevant authorities to take "legal and administrative" action. It has been four months since JSC nominated 41 individuals for appointment as judges of Appeal, Lands and Employment courts. However, the President went quiet after the names were forwarded to him, prompting a court case by a lawyer who wants the High Court to compel the Head of State to make the appointments.