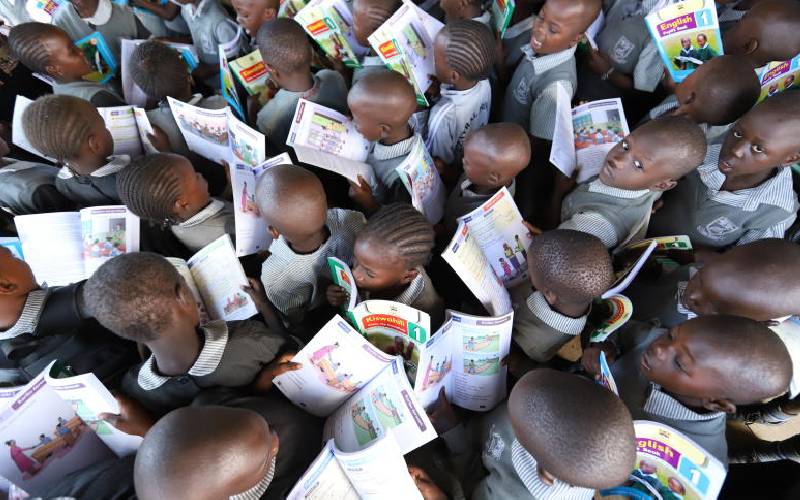 Ministry of Education is rushing against time to deliver textbooks for Grade Four before schools open for First Term in January. The Saturday Standard has established that some 10.6 million textbooks had been printed by yesterday even as deliveries to schools kicked off. A total of 13.4 million textbooks are supposed to be printed and distributed to schools by seven publishers. This means that only 3.2 million books are yet to be printed. Interim report reveals that most copies of Christian Religious Education (CRE), Agriculture, Science and Technology, Art and Craft and Music, Home Science and Social Science have been printed.
SEE ALSO: Boy held over girl's death in fight for pasture
However, concerted efforts are needed to print Islamic Religious Education, Mathematics, Physical Education, Kiswahili and English books. Education Cabinet Secretary George Magoha said last month that all the textbooks will be available in time to roll out Grade Four in January next year. The Competency Based Curriculum is being implemented in phases starting with PP1 and PP2, and Grades 1,2 and 3 learners. Grade Four kicks off in January. Kenya Institute of Curriculum Development Chief Executive Office Julius Jwan met with publishers last month and asked them to expedite the process so that the curriculum support materials are accessed on time. "The quality of the learning materials must be above board and let publishers adhere to the Ministry of Education guidelines," Mr Jwan said. Details seen by Saturday Standard reveal that books by 19 publishers passed vetting and will provide titles for the 14 subject textbooks that will be put in the Orange Book.
SEE ALSO: Number of learners far less than earlier thought, says report
The Orange Book is a guide that gives a comprehensive list of course books and other instructional materials approved by the Ministry of Education for use in all learning areas for Early Years Education. Early Years Education covers pre-primary and lower primary education. Details show that Oxford, Longhorn and Kenya Literature Bureau publishers had the most books approved, with six titles each.