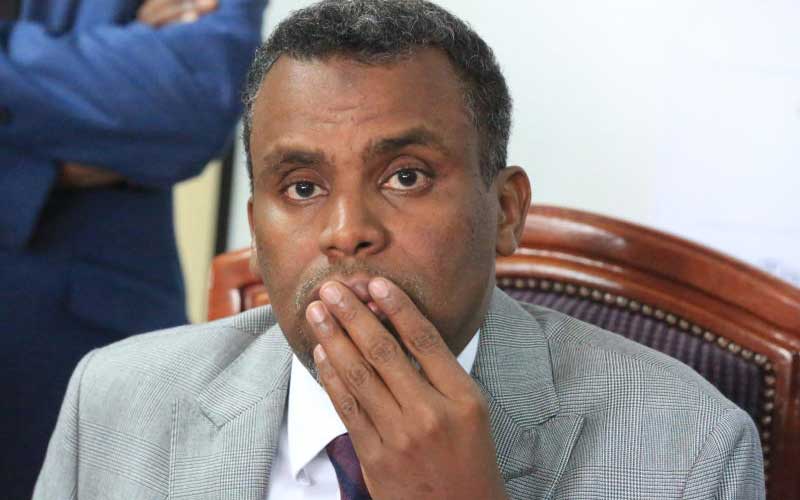 Kenya
They face charges for the direct procurement of audit vault software at the Office of the Auditor General.
Six suspects were arrested yesterday over the more than Sh100 million audit vault scam at the Office of the Auditor General. Those arrested by the Ethics and Anti-Corruption (EACC) detectives were former Deputy Auditor General Stephen Kinuthia, Director ICT Justus Ongera, Manager ICT Department Annette Mwangi, two directors at Enkei Holdings Limited, Desmond Kinuthia and Nelson Kinuthia, and Charles Njuguna of Njuguna and Partners. The six are among 16 suspects whose prosecution over the irregular procurement of the audit vault software was approved yesterday by the Director Public Prosecutions (DPP) Noordin Haji. They will face five charges of conspiracy to commit an economic crime, conflict of interest, unlawful acquisition of public property, dealing with suspect property and money-laundering.
SEE ALSO: Governors put to task over tenders
The EACC directed the 10 still at large, mainly from Oracle Systems Kenya Limited, Open Systems Integration Kenya, Enkei Holdings Limited and Mars Technology Limited to immediately present themselves at its Integrity Centre offices in Nairobi. Haji said the 16 have a case to answer and will be arraigned immediately they are processed. The others sought are Sales Executive at Oracle Systems Kenya Limited Charles Gichohi, two non-executive directors at Open Systems Integration Kenya, Ephantus Kahwae and Sylvester Kiplaga, and managing director Patrick Maina. Also wanted are Enkei Holdings Limited Director Charmine Kinuthia, two directors at Mars Technology Limited, Edward Mwachinga and Charles Mwaduna, two directors at Nanazi Investment Limited, Jane Kinuthia and Florence Kinuthia and James Gachoka of Partner Amolo Gachoka and Company Advocates. The software to audit financial transactions using the Integrated Financial Management Information System (IFMIS) platform was purchased from Open Systems Integration (OSI) Kenya through direct procurement, purporting to be the only accredited partner of Oracle to supply the software.
SEE ALSO: Tatu city loses legal battle with EACC
"The commission established that there was no justification for single-sourcing, the payment was grossly exaggerated and that out of Sh100.7 million paid, only Sh36 million was legitimately paid to Oracle for the software," said EACC Chief Executive Officer Twalib Mbarak. Kickbacks The balance of Sh64 million, according to the EACC boss, was paid as kickbacks to public officials, private persons and their associated companies. "Those in our custody might stay with us until Tuesday to be arraigned in court. "Depending on circumstances, since some are not feeling well, they might be released on bond to appear in court on Tuesday," an official at the EACC told the
Saturday Standard
.