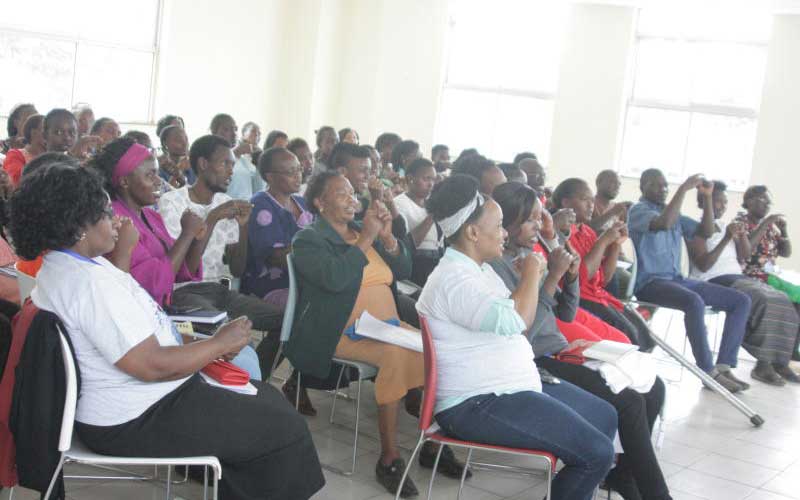 The group is compromised of the youth and the elderly, and although they may have age differences, they share something in common: they are determined to learn sign language. The lot is headed to the Kenya National Library, Nakuru branch where they occupy space at the American corner. The team drawn from various parts of Nakuru town patiently waits for an instructor to pick up the day's lesson. One by one, they present their assignments to Jane Ndung'u, the sign language teacher and librarian. The lesson, done in sign language is interactive, with participants cheering those who have mastered the signs. This is the sign language programme introduced at the library with an aim of improving interaction between the deaf and the hearing society at large. "The class brings on board those who are trained on how to interact with people who cannot hear. These are people we meet, but cannot communicate with because of language barrier," Ms Ndung'u says.
SEE ALSO: MCAs want State House Comptroller probed
Ndung'u, who enrolled for basic sign language at the Kenya Institute of Special Education in 2015, notes that there are various sign languages worldwide. "I decided to enroll for sign language to enable me serve the deaf. Some would come to the library and leave without being served because of language barrier," she says Ndung'u. There is Kenyan Sign Language, American Sign Language, Ugandan Sign Language and Britain Sign Language.
Different signs
Learners are taken through the Kenyan Sign Language. "There is no universal sign language and this is why people from different countries are trained in different signs in relation to their environment for easier interaction. For example, it will be hard for Kenyan sign trainer to interact with a Tanzanian," Ndung'u says.
SEE ALSO: Bring it on: Governor Kinyanjui dares MCAs over ouster threats
Among topics trainees are taken through include finger spelling that entails using the finger to spell the alphabet and numbers. Ndung'u notes that trainees are also equipped with etiquette and dialogue skills that enable them to know how to greet people with hearing impairment. Time of the day, week and month of the year including weather is also a unit at the sign language class. Learners also go through different colours to ease communication. "Everything about people with hearing impairment revolves around signs. This is why in our lessons, we must also ensure that trainees learn how to identify different foods," she says. The programme started with only 10 learners and currently they are 80. The first group graduated in May this year. Maimuna Mwinyi is among one of the trainees. She was challenged to enroll for the lesson as she could not communicate with her friends with hearing impairment.
SEE ALSO: Special police unit set up to fight outlawed gang in Nakuru town
"I accompany social workers whenever they undertake programmes with the community to help them communicate with those with hearing impairment," she says. Purity Mutoko, the librarian in charge says those with a hearing problem are often ignored. "The library is proud that we are able to serve people with hearing impairment. Enrollment indicates that we need to embrace the deaf because they are less understood," Ms Mutoko says. She appeals to the government to introduce Kenya Sign Language in the curriculum to improve academic performance of the deaf. There are over 200 online courses offered at the institution, including introduction to computer, public speaking, leadership, entrepreneurship, community journalism and interview skills. Short online courses are supported by the Chicago Public Library, Electronic Information for Library and Peer to Peer University that aims at equipping library users with relevant skills.