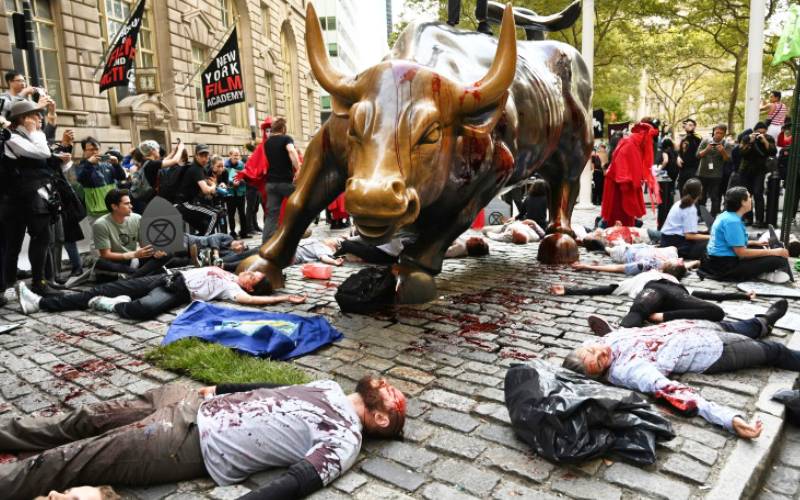 Climate protesters from Sydney to New York blocked roads Monday, sparking mass arrests, as they started two weeks of civil disobedience demanding immediate action to save the Earth from "extinction." The demonstrations, triggered by the group Extinction Rebellion, were mostly limited to a few hundred people in each city, far from the size of last month's massive Greta Thunberg-inspired demonstrations. Protesters chained themselves to vehicles and other structures and lay down in the middle of streets in defiance of police across Europe and parts of Asia, Africa and North America. Extinction Rebellion is demanding that governments drastically cut the carbon emissions that scientists have shown cause devastating climate change.
'Running out of time'
Hundreds of Australians joined a sit-in on a busy inner Sydney road before being dragged away by the police. Thirty people were later charged. "We have tried petitions, lobbying and marches, and now time is running out," Australian activist Jane Morton said. Australia's conservative government has resisted adopting new environmental standards and backed lucrative coal exports. Protests occurred in 60 cities around the world, including New Delhi, Cape Town, Paris, Vienna, Madrid and Toronto.
'Burn capitalism!'
The movement is partially credited with pushing the UK government in June to become the first in the Europe Union to commit itself to a net-zero target for harmful emissions by 2050. Extinction Rebellion is demanding governments reach that target by 2025, as well as holding "citizens assemblies" to decide on policies to achieve that aim. The parliament in Norway, not an EU member, in June adopted a target of 2030.